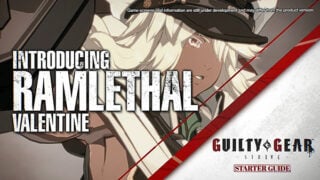 Arc System Works has released the Ramlethal Valentine "Starter Guide" video for the Guilty Gear: Strive console open beta test set to run from February 18 to 21.
Here is the full schedule of video releases:
February 10 – Starter Guide #8: Millia Rage
February 11 – Starter Guide #9: Zato-1
February 12 – Starter Guide #10: Ramlethal Valentine
February 13 – Starter Guide #11: Leo Whitefang
February 14 – Starter Guide #12: Nagoriyuki
February 15 – Starter Guide #13: Giovanna
February 16 – Starter Guide #14: System Overview
Starter Guide videos for the characters that were playable in the April 2020 closed beta test are already available. If you missed them, watch them via the following links:
Guilty Gear: Strive is due out for PlayStation 5, PlayStation 4, and PC via Steam on April 9. The Deluxe and Ultimate Editions will launch for PlayStation 5 and PlayStation 4 three days in advance on April 6. Read more about the game here and here.
Watch the new video below.