Samurai Shodown DLC characters Cham Cham and Hibiki Takane announced
Cham Cham due out alongside battle system update in mid-March.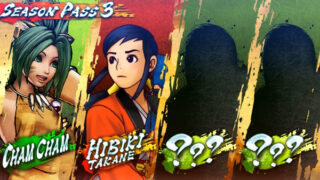 Cham Cham and Hibiki Takane will join the roster of Samurai Shodown as part of its Season Pass 3, publisher and developer SNK announced. Cham Cham will launch in mid-March alongside a battle system update, followed by Hibiki Takane and two other characters at a later date. Hibiki Takane is the previously teased character from The Last Blade.
"So first off, why did you decide to include Hibiki Takane for this latest Season Pass?" producer Yasuyuki Oda asked director Hayato Konya in a video message.
Konya responded, "Well, we've done a bunch of cross-over characters with other companies, so I wanted to focus specifically on an SNK IP this time. And out of the IPs we have, Hibiki Takane from The Last Blade has appeared in other games, so I felt her a great fit. Her move list is also really flashy and cool, so I think she'll make a great addition to Samurai Shodown. Though both Samurai Shodown and The Last Blade play very differently, we're hard at work making her transition seamless."
As for Cham Cham, Konya said, "Cham Cham is someone the fans have been begging for, so I wanted to make their wishes come true. We can't wait for you to try out this cute little devil!"
Konya also shared information on updates coming to the battle system. He said, "We added a Guard Crush mechanic, which is something completely new to Samurai Shodown. Additionally, we've re-balanced the entire game, and we added measures to prevent weapons from disappearing off-stage. This update will make Samurai Shodown even more exciting, so please look forward to it!
Samurai Shodown is available now for PlayStation 4, Xbox One, Switch, PC via the Epic Games Store, and Stadia. An Xbox Series version is due out this winter.
Watch a new trailer below.
English
Japanese