Monkey Barrels coming to PC in February
PC version offers 60 frames per second, cross-play, and more.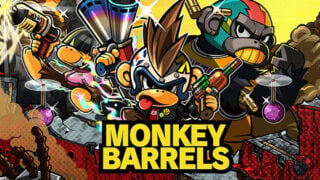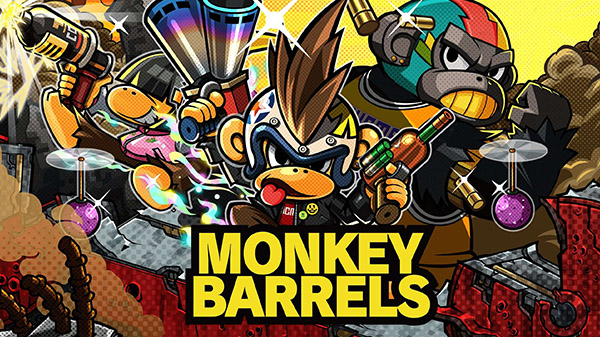 Good-Feel will release Monkey Barrels for PC via the Epic Games Store in February for $14.99, the developer announced. The game will be available at a 40 percent-off discount price of $8.99 until February 9.
Monkey Barrels first launched for Switch via the Nintendo eShop in November 2019. A physical edition was later released by Nicalis in North America and Justdan International in Japan.
The PC version will offer a 60 frames per second frame rate, smoother gameplay, more intense action, key configuration support, multiple resolutions support, cross-play with the Switch version, and more. Here is a full overview of the PC version's new features, via Good-Feel:
Cross-Play with the Switch Version – The Banana Scramble multiplayer mode, in which up to six players compete, features cross-play with the Nintendo Switch version of the game, allowing you to go head-to-head against other players around the world, regardless of platform.
60 Frames Per Second and Resolution Options Combine for Even More Stunning Visuals – At 60 frames per second, the game's gorgeous 3D pixel art graphics and intense action are more enjoyable than ever. Plus, no matter your display, the game has you covered with complete resolution support.
Support for Mouse and Keyboard Input as well as Custom Key Bindings – Players can use either a controller or mouse and keyboard. The game's controls are also customizable, allowing you to tailor them to your system and play style.
And here is an overview of the game itself:
About

The Monkey-Crab Wars to end all wars" begins! It's monkeys vs. machines in this zany action-packed shooter!

In a world ruled by the consumer electronics giant Crabbenwold Electro, a pair of brave monkeys set out on a journey to rescue their kidnapped friends from an evil army of robot appliances!

Key Features

In addition to a 22-stage story mode, there's also an online competitive mode!
Features 3D pixel art that puts a fresh spin on old-school graphics!
Tons of fun and challenging stages await you!
98 different types of weapons to use!

From your standard weapons to the most unique, equip up to four items and take advantage of their strengths to beat the toughest stages!

Monkey vs. monkey! Online matches with up to six players!

Decide who's the #1 Boss Monkey in Banana Scramble!
The rules are simple: whoever picks up the most bananas wins!
Watch a trailer for the PC version below.
(Editor's Note: A previous version of this article reported the release date as February 6. That was incorrect. Good-Feel has only announced a February release window.)