A-Train All Aboard! Tourism official English website opened
First English screenshots of the business simulation game.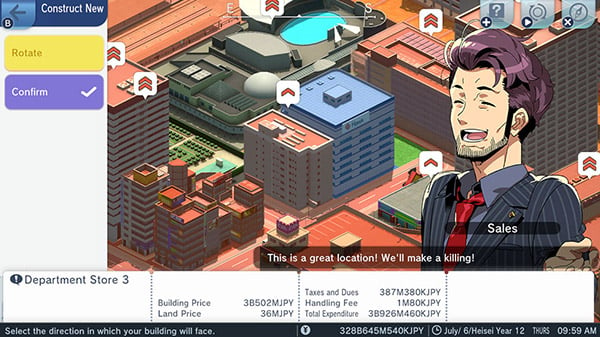 Artdink has opened the official English website for A-Train All Aboard! Tourism, the official English title for A-Train Hajimaru Kankou Keikaku.
As previously announced, A-Train All Aboard! Tourism will launch both physically and digitally on March 12 in Japan with support for English, Japanese, Korean, and Chinese (Simplified and Traditional) language options. A physical edition will also be available in South Korea, Hong Kong, and Taiwan. The English website does not specify whether the digital version is also planned for release on the same day in the west.
Here is an overview of the game, via the official website:
Become the President of a Railroad Company!

A-Train All Aboard! Tourism is a business simulation game in which you use the railroad to help towns develop.

In the world of A-Train, people gather around stations, gradually developing the surrounding town. As president of your very own railroad company, you are free to build stations and lay train lines as you see fit.

What kind of railroad will you create? How will you develop the town? All these choices and more are yours to make.

However, as company president, your job is about more than just developing the transportation network.

It's important that you decorate your town by establishing subsidiaries and advertise your company to increase your band power. The bigger your company grows, the more freedom you will have to develop the town, bringing it ever closer to your ideal.

Tourism-Based Urban Planning

In each town, you will find a variety of tourist attractions, from idyllic hot spring districts to ancient historical castles.

There are many tourists who would love to visit these locations at least once. However, whether these locations ever reach their full potential depends entirely on your skill.

If a destination is difficult to reach, it will receive few visitors, regardless of how stunning its sights may be. Use the railroad, bus lines, and even ferries to envision and enable enjoyable holidays.

Your success will surely be reflected in the number of tourists flocking to your town.

All Aboard! Tourism is a One-Way Ticket to Urban Planning!

Any town you can envision is yours to create!

Do you want to see a highly developed metropolis? Perhaps a quiet town, tucked away in the shadow of its beautiful tourist attractions? How about a bustling city with a highly efficient transportation network?

You decide the town's future. This story is yours, told with the help of your friends and associates.

Now, it's time to get started on tourism planning and begin working towards your ideal city!
View the first English screenshots at the gallery.