A-Train Hajimaru Kankou Keikaku launches March 12 in Japan, includes English text support
Early purchases include original soundtrack CD.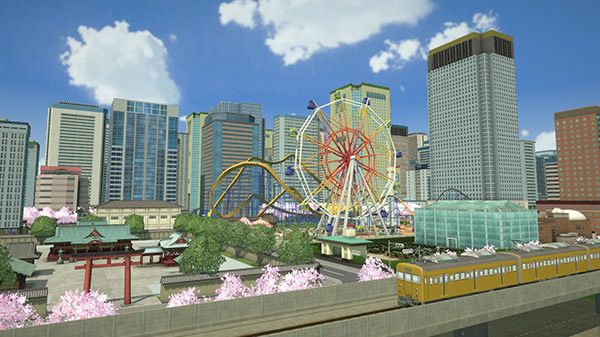 A-Train Hajimaru Kankou Keikaku will launch for Switch on March 12 in Japan for 6,980 yen, publisher and developer Artdink announced. It will support Japanese, English, Chinese (Traditional and Simplified), and Korean language options.
Early purchases of the physical edition will include the "Odekake Hiyori" original soundtrack CD, which includes the following tracks:
1. "The Rail to You"
2." Jouki Rouman"
3. "Ao no Yakei"
4. "Suichuu Toshi"
5. "Shiokaze to Taiyou"
6. "Sei no Yurikago"
7. "Ganbaruzo!"
8. "After Five"
9. "Wai-Wai Office"
10. "Promise"
11. "Itadaki ni te"
12. "Let's Go on a Journey"
13. "Let's Go on a Journey (Instrmental)"
14. "Let's Go on a Journey (Karaoke)"
15. "Geofront"
16. "Them Noturno (A9 April Theme)"
17. "Tobira"
18. "Machikado no Onna (A7)"
Here is an overview of the game, via its newly launched official website:
Run a Company that Extends the Railway and Develops the City

You are the manager of your very own railway corporation. The tracks you lay will help develop the city. As the city develops, your corporation's profits will increase and eventually it will go public. Experience the thrill of being a city-building proprietor!

New Feature: Create Popular Tourist Attractions

Create transportation networks at potential tourist attractions to turn them into popular destinations by your very own hands. The transportation networks you can use include not only railways, but also buses, ferries, and airplanes. Test your skills in tourist attraction development through various scenarios.

An A-Train Experience All Your Own

Customize your railroad cars, set up your railway schedule. Create subsidiaries and expand the city. With unique activities such as these, you can focus on what you want to focus on. City-building will be the work you create. And you can even create original scenarios to distribute. How you play depends on you!
View a new set of screenshots at the gallery.