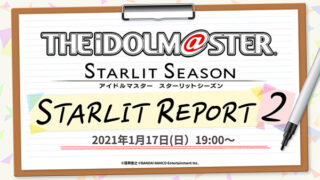 Bandai Namco will host the second official "Starlit Report" live stream for The Idolmaster: Starlit Season on January 17, 2021 at 19:00 JST, where it will share the latest information on the upcoming game, the company announced. You will be able to watch it on YouTube and Niconico.
The live stream will feature the following presenters:
Manami Numakura (Hibiki Ganaha voice actor)
Hiromi Igarashi (Anzu Futaba voice actor)
Haruka Yamazaki (Mirai Kasuga voice actor)
Ryouko Maekawa (Tenka Osaki voice actor)
Youzou Sakagami (The Idolmaster series general producer)
Hayato Kutaragi (The Idolmaster: Starlit Season producer)
The Idolmaster: Starlit Season is due out for PlayStation 4 and PC via Steam in 2021 in Japan.