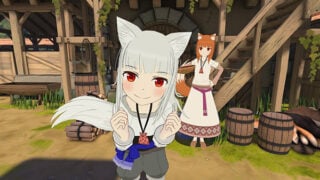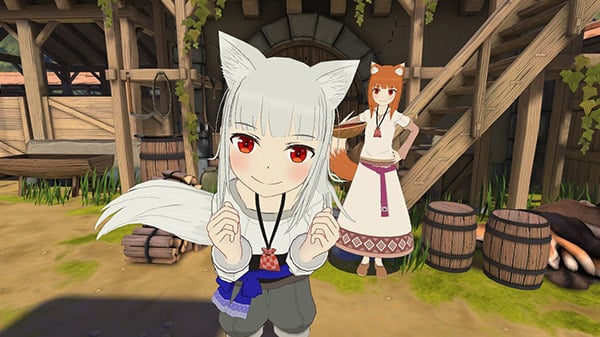 Virtual reality animation sequel Spice and Wolf VR 2 will launch for PlayStation VR, Switch, PC via Steam, Oculus Rift, and Oculus Go on December 10 for $24.99 / 2,739 yen, the game's Japanese Nintendo eShop listing reveals. It will support English, Japane,se and Chinese (Simplified and Traditional) language options.
Here is an overview of the game, via its Steam page:
About

At the end of his journey with the wolf goddess Holo, former traveling merchant Lawrence settled down with her and opened a bathhouse.

The couple was blessed with an adorable daughter and an idyllic life.

However, the beautiful wolves have a weakness for delicious meals and their food expenses are a source of headaches for Lawrence.

One day, as Lawrence is going about his fur side business to further fill the family's coffers, a slight incident occurs.

To further complicate things, Holo saunters in with quite the feast.

This is a virtual reality animation of Spice and Wolf: Spring Log, sequel to the original Spice and Wolf VR animation.

The game has a 30 minute story and a game mode where you can watch part of the anime alongside its characters in the style of Japanese paper street theater.

A peaceful life in the bathhouse with wolfgirls awaits.

You can enjoy the game and view the included anime without a VR headset in its Non-VR Mode.

Staff and Cast

Producer / Creator: Spicy Tails
Planner / Scenario Writer: Isuna Hasekura
Character Design: Ju Ayakura
Holo Character Voice: Ami Koshimizu
Lawrence Character Voice: Jun Fukuyama
Myuri Character Voice: Aimi Tanaka

Holo Motion Capture Actor: Kaori Kawabuchi
Myuri Motion Capture Actor: Aimi Tanaka
Voice Director: Teruaki Ogawa
3D Modeling / CG Animation: Keisuke Sakakibara
Concept Artist: Yo Shimizu
Logo Designer: Masatoshi Sakai
Motion Capture: MOZOO Inc.
Website Designer: Kyoichi Kido
Character Voice Recording: Brave Hearts Inc.
Composer: Sakiko Sakuragi (Inspion)
Development: Gemdrops, Inc.
Coordination Support: Spice & Wolf Production Committee
If you missed it, watch a trailer here.