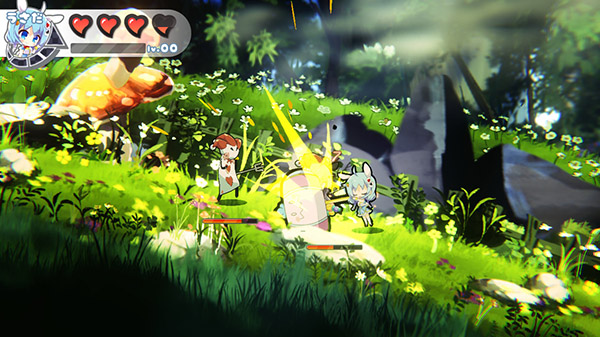 Publisher Sekai Project and developer illuCalab will release Metroidvania action game Alice Escaped! for PC via Steam in Q1 / Q2 2021, the companies announced.
illuCalab told Gematsu it is still in discussion about whether Alice Escaped! will also be available on consoles.
Here is an overview of the game, via its Steam page:
About

Alice Escaped! is a exploratory and stylistic Metroidvania action where two girls Usada and Kotora travel through a wonderland following "Alice" their missing friend. Despite its cute appearance, this battle scene is rich and exhilarating. Switch two main characters: Usada is good at melee combat with a hammer, and Kotora flies around with huge guns, to knock down your enemies and explore a vast world!

In this world every choice the player makes is important. From the conversations they have, the enemies defeated, routes taken as well as whether they act with mercy or ruthlessness, will shape the world in the game and cause the future to diverge. This is a stylish 2D action game for those players nostalgic for adventure games from the past. It is the fusion of these two concepts that make Alice Escaped! what it is.

Equipped with two difficulty modes that can be enjoyed by people who are good at action games or not. If your enemies are strong, gather up the items around the world and strengthen their skills.

During the game, a lot of characters and worldviews based on Alice in Wonderland appear. The thrilling field with beautiful illustrations awaits you!

Key Features

Character illustrations by the talented PicPicGram (Ninja Girl, Japanese School Life).
Developed by illuCalab (A Magical High School Girl).
Two playable characters.
Local co-op.
Two difficulties to choose from.
Watch a gameplay video below. View a set of screenshots at the gallery.