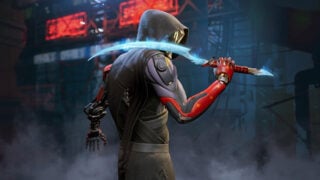 Publishers All in! Games and 505 Games, and developers One More Level, 3D Realms, and Slipgate Ironworks have announced the free "Hardcore Mode" update and paid cosmetic downloadable content "Winter Pack" for Ghostrunner.
"Hardcore Mode" is available today for PC and will launch on December 17 for PlayStation 4 and Xbox One, followed by Switch on January 14, 2021.
The "Winter Pack," which includes the "Cold Snap Katana" and matching crimson "Cold Blood Glove" for $1.99 / €1.99 / £1.69, is available today for PlayStation 4, Xbox One, and PC, and will launch for Switch alongside "Hardcore Mode" on January 14.
Ghostrunner is available now for PlayStation 4, Xbox One, Switch, and PC via Steam, GOG, and the Epic Games Store. PlayStation 5 and Xbox Series versions are planned for release in 2021.
Watch a trailer for the "Winter Pack" below.