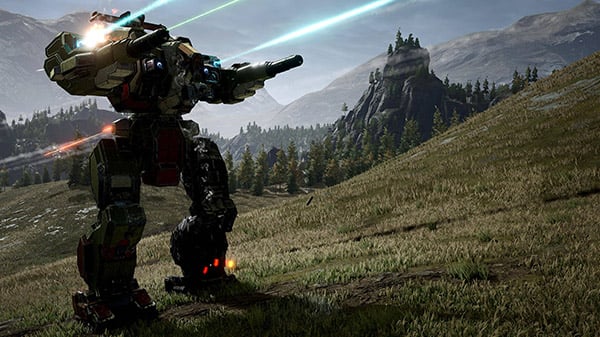 MechWarrior 5: Mercenaries is coming to Xbox Series and Xbox One in spring 2021 alongside the PC version's debut on Steam, GOG, and the Microsoft Store, developer Piranha Games announced.
Piranha Games also delayed the MechWarrior 5: Mercenaries downloadable content "Heroes of the Inner Sphere" from its previously planned December 10 release date to spring 2021.
"Along with the Xbox release, this delay will allow us some additional opportunities that will benefit the game, as well as the MechWarrior community at large," the studio said in an update. "First and foremost, the combined release on Steam, GOG, Epic Games Store, Microsoft Store, and Xbox consoles will give us more exposure and a broader reach than we've ever had before."
The studio continued, "We will capitalize on this increased exposure with our largest marketing initiative to date, bringing as many new eyes to the MechWarrior franchise as possible. This will give us more time to add improvements and quality of life features to the base game, including AI, UI, art, customization, and content. We will continue to tune the single player campaign and new career modes, making running your Mercenary Unit the most rewarding experience possible."
Piranha Games recently entered into an acquisition agreement with Enad Global 7, which the studio said has given it further resources to support these efforts and take its MechWarrior titles to the "next level."
MechWarrior 5: Mercenaries first launched for PC via the Epic Games Store in December 2019. Here is an overview of the game, via its store listing:
About

The year is 3015. Humanity has colonized thousands of systems across a vast region of space splintered by centuries of conflict. The battlefields of the future are dominated by MechWarriors, elite pilots of hulking machines of war known as BattleMechs. It is a lucrative time to be a mercenary.

Key Features

A World of Destruction – Level entire cities and decimate armies of enemy forces while piloting hundreds of unique BattleMech variants.
Seek The Truth – Follow a path of interstellar intrigue in a quest for glory and revenge as the leader of a mercenary company reborn in the flames of near destruction.
The Merc Life – Manage the intricacies of running an expanding mercenary company, from the maintenance and acquisition of BattleMechs to the hiring of fellow MechWarriors.
Fight Together – Fight alongside your friends with four-player player-versus-enemy co-op support.