Ketsui Deathtiny: Kizuna Jigoku Tachi now available in North America
Cave-developed shoot 'em up comes west for the first time.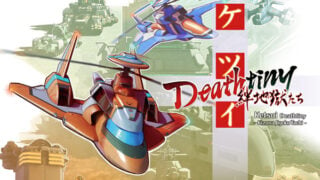 Ketsui Deathtiny: Kizuna Jigoku Tachi is now available for PlayStation 4 via the PlayStation Store in North America for $34.99, marking the first ever western release of the Cave-developed shoot 'em up.
The original Ketsui: Kizuna Jigoku Tachi first launched in Japanese arcades in January 2003, followed by DS in October 2008, Xbox 360 in April 2010, and PlayStation 3 in July 2013. Ketsui Deathtiny: Kizuna Jigoku Tachi, the PlayStation 4 version with additional features ported by M2, launched in November 2018 in Japan.
Here is an overview of the game, via the PlayStation Store:
Overcome despair with ketsui—determination.

Originally released in 2003 at the cutting edge of hardcore shoot 'em ups, Ketsui: Kizuna Jigoku Tachi returns as the fourth entry in the M2 ShotTriggers series!

Features seven modes, the most in series history!

Arcade Mode – The ultimate recreation of the arcade game.
Super Easy Mode – An enjoyable entryway into the world of Ketsui.
Arcade Challenge – Practice stages in bite-sized chunks. A handy rewind function guides you from total beginner to grand master!
Bonds of Growth – Practice your weakest areas, gathered from your actual play data!
Deathtiny Mode – A new, remixed version of Ketsui with hyper-destructive gameplay.

Whether you're a beginner or a seasoned veteran, there's a mode for everyone!

M2 Gadgets make their triumphant return! Lay bare the inner workings of the game to help your skills reach the next level.

From total beginners to grand masters, this is a Ketsui for the entire human race.
Watch the launch trailer below. Visit the official website here.