Devil May Cry 5 Special Edition pre-launch gameplay, previews, and screenshots
A look at Legendary Dark Knight Mode, Turbo Mode, and Vergil gameplay.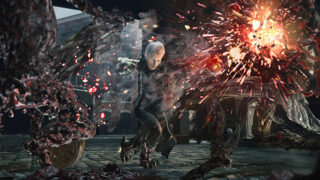 Several outlets have gone live with the pre-launch hands-on previews of Capcom's Devil May Cry 5 Special Edition, which include new gameplay and screenshots.
English previews are available at Game Informer and IGN. Japanese previews are available at 4Gamer.net, Dengeki Online, Famitsu, Gamer.ne.jp, GAME Watch, and IGN Japan.
Devil May Cry 5 Special Edition is due out digitally for Xbox Series on November 10 worldwide, as well as PlayStation 5 on November 12 in the United States, Japan, Canada, Mexico, Australia, New Zealand, and South Korea, and November 19 in the rest of the world. A physical edition will follow on December 1. Read more about the game here.
Watch the footage below. View the screenshots at the gallery.
4Gamer.net
Legendary Dark Knight Mode Gameplay
Turbo Mode Gameplay
Vergil Gameplay
Famitsu
Legendary Dark Knight Mode Gameplay
Turbo Mode Gameplay
Vergil Gameplay
Game Informer
Gamer.ne.jp
Legendary Dark Knight Mode Gameplay
Turbo Mode Gameplay
Vergil Gameplay
IGN
Legendary Dark Knight Mode Gameplay
Vergil Gameplay
IGN Japan
https://www.youtube.com/watch?v=WF14vQDXoeI