Monster Hunter Rise – new information tidbits, screenshots
Tons of new details on the Switch-exclusive Monster Hunter game.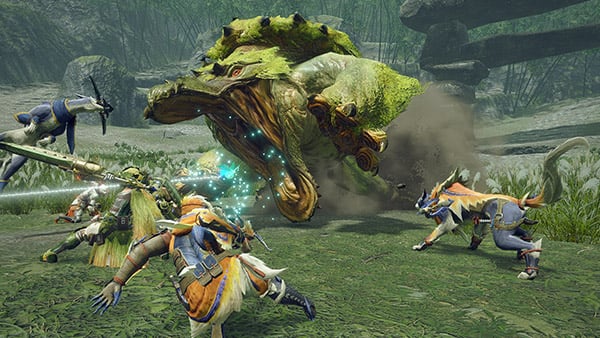 Japanese and western media published new interviews with Monster Hunter series producer Ryozo Tsujimoto and Monster Hunter Rise director Yasunori Ichinose today, providing various nuggets of new information on the new Monster Hunter game.
Get the tidbits below.
After development on Monster Hunter Generations was complete, game engine verification and project planning for Monster Hunter Rise began. The concept was developed while supporting the development of Monster Hunter Generations. Additionally, the Monster Hunter Rise team exchanged ideas with the Monster Hunter: World team, which was in development alongside Monster Hunter Rise, to help decide which elements to include in the game.
The wirebug began as a way to include an element that ties into the main part of the action system. It feels good to simply move around. Since you can basically go wherever you can see, exploration and traversal are fun as well.
Some monsters are designed to give you a wider ranger of strategy by making use of the wirebug.
The reason Monster Hunter Rise has a more Japanese or Asian aesthetic is because director Yasunori Ichinose wanted to create something with a different taste compared to Monster Hunter: Generations and Monster Hunter: World, which were in production at the same time. Additionally, much time has passed since Monster Hunter Portable 3rd, so he thought it was high time to return to that style.
The four new monsters revealed thus far—Wyvern of Malice Magnamalo, Parasol Bird Aknosom, Kamaitachi Wyvern Great Izuchi, and Kappa Frog Tetranadon—all have a yokai theme.
Magnamalo was designed in the image of an armored ghost warrior and onibi. Aknosom is a fusion of a crane and karakasa-obake. It is characterized by the changing shape of its head crest, and moves like no other Bird Wyvern in the past. Great Izuchi is themed after the yokai kamaitachi, which act as a trio. Since they are always moving as three, it is important to determine whether or not to target the followers first. Tetranadon was created in the image of a kappa and frog, but with various other elements mixed in. He moves like a sumo wrestler.
Various yokai themes have been applied to the monsters that have appeared in previous Monster Hunter games.
The hunter's various voiced lines were taken on as a new challenge by the proposal of the sound team. If you want to make your character unique, you can set an anime-esque voice. For users who want to play with traditional shouts, that can be adjusted in the options.
The Palamute attacks as the player attacks. While it can also attack on its own, the more the player attacks, the more the Palamute attacks.
The Palamute specializes in attack and movement support, while the Palico specializes in recovery and trap support. In multiplayer, where you can only take one partner along, you should choose based on your capture strategy.
There is an emphasis on the communication between monsters and hunters. Based on that, fields are designed so that the terrain of the main areas are not too complex. But as not to make it a level surface, the team has added sub-areas that you can explore. While in previous games the hunter would simply chase the monster when it moved to a new area, you can now take shortcuts through sub-areas. The goal is for players to determine their own strategy.
The gameplay leading up to the hunter reaching the monster is different from previous Monster Hunter games. The field is scattered with elements that enhance your stats, so you can challenge the monster after some slight detours and enhancements, or simply head straight into the hunt.
While mounting was not shown during any of the live gameplay we have seen thus far, it will be introduced again in the future.
While there are still only 14 weapons, each weapon has added wirebug actions.
There are various things you can do with the environmental biology in the field. There are organisms that can be used for buffs, organisms that can be used like items, organisms unique to the field, and so on, so figure out the best way to use them and seek out locations to gather a lot.
Capcom is not thinking about an expanded version of the game yet (such as
Monster Hunter Portable 3rd G or Monster Hunter World: Iceborne) considering the main story has yet to be completed, but event quests and title updates are planned for after release. The idea is to keep users playing for a long time.
Amiibo from other games can be used to play the daily lottery to get various items. You can also get special layered armor with the Monster Hunter Rise-specific Amiibo.
Capcom hopes to be able to collaborate with the Monster Hunter movie if the opportunity arises.

Thanks, Games Talk.

Monster Hunter Rise has been in development for four years.
Each Monster Hunter game is treated as its own concept. Monster Hunter: World was not released for Switch as it was designed to be played sitting in front of a big TV on a sofa for hours at a time. Monster Hunter Rise is designed as a game you can pick up for 30 minutes and get something out of it within that time frame.
It was a challenge to get the RE Engine running on Switch, but the team has managed to pull off a comfortable 30 frames per second while making the game look good and pushing the power of Switch as much as possible.
The goal is to have as many internal Capcom games running on the RE Engine as possible.
Local wireless multiplayer returns in Monster Hunter Rise.
The "So Tasty" voice clip returns, as well as a new, extra level of voice clips in general.
The same 14 weapons in Monster Hunter: World return in Monster Hunter Rise. As for why a 15th weapon has yet to be added, Monster Hunter series producer Ryozo Tsujimoto said, "Adding an extra weapon type would really have to add something new, it would have to add something to the roster that isn't currently present in any of the quite large number of weapons already there. And we also have so many ways that we can increase the depth and breadth of the gameplay that aren't fixated on that idea of an extra weapon, for example, the wirebug mechanic—that adds something to each and every existing weapon, they all have ways you can combine the wirebug with. And that way of taking something which adds on to all 14 weapons adds a depth and breadth, that wouldn't be the same as just saying try different weapons. You know, we just don't think in those kind of terms. We always think, how do we add to the breadth and depth of the experience, and in this case we've chosen to add something to the hunter's toolset in general."

Naming Convention – According to Monster Hunter series producer Ryozo Tsujimoto, the no-number naming convention for Monster Hunter games will be the norm going forward. "We decided that it would be better for the players to understand… what the game is about," Tsujimoto told IGN. "If we give the game a title that reflects what it's about rather than just a number. …We will be doing this in the future as well."
Quest Separation Makes a Return – In Monster Hunter: World, there was a single set of key quests playable in either single-player or multiplayer. But in earlier Monster Hunter games, those different sets of quests were separated into the Gathering Hub for multiplayer and Village Quests for single-player. Monster Hunter Rise brings back that separation of quests, but single-player progression will not affect your ability to play multiplayer quests and vice-versa.
Skippable Cutscenes – Cutscenes can be skipped and will no longer prevent you from joining multiplayer quests like they did in Monster Hunter: World. You can also re-watch cutscenes.
Freedom of Movement – You can climb and move freely in Monster Hunter Rise. According to director Yasunori Ichinose and Monster Hunter series producer Ryozo Tsujimoto, they have wanted to create a Monster Hunter with more freedom of movement since the release of Monster Hunter: Generations in 2015.
Wirebugs – Unlike Monster Hunter: Generations' Hunter Arts, which were more akin to special attacks with occasional use and a cooldown period, Monster Hunter Rise's wirebug attacks can be actively used in combat to form new combos. While these attacks cannot be customized, there are other new elements regarding actions that will be announced in the future. Also, Armor Skills will not have any effect on the wirebug.
New Icon Designs – Capcom is making alterations to existing Monster Hunter series icons to suit the smaller screen of Switch as necessary.
No Voice Chat – Monster Hunter Rise will not feature built-in voice chat or support the Nintendo Switch Online mobile app. Its only forms of player communication are messages, stickers, and gestures.
No Prowler Mode – The Prowler Mode from Monster Hunter: Generations, which allows you to play as your Felyne Palico, will not return in Monster Hunter Rise.
Monster Hunter Rise is due out for Switch on March 26, 2021 worldwide. Read more about the game here. Watch 43 minutes of gameplay here.
View the screenshots at the gallery.