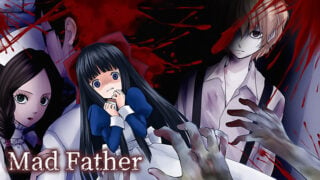 The remake of survival horror RPG Mad Father will launch for Switch via the Nintendo eShop and PC via Steam on November 5 for $9.99 / 980 yen, publisher Playism and developer Sen announced. Users who already own the original Mad Father on Steam will receive the remake as a free update. It will support English, Japanese, and Simplified Chinese language options.
These are the key changes introduced in the remake:
Newly Added Elements

Updated graphics (characters, maps, some skills, etc.)
Widened game screen
New events
Newly added / revamped systems
Newly added second playthrough "Blood Mode" (greatly changes the main scenario)
New maps
Gamepad compatibility
Noise filter feature (can be turned off in Settings)
"Doll Maker" added to Museum
New menu screens (Missions, Help, Options)
Newly added controller button allocation feature
Newly added voices (new variations incl. father's laugh, etc.)

Newly Added Episodes

Memories of the origins of the relationship between the Blonde-Haired Youth & the Drevis family.
In Blood Mode: Revelations of Aya's mother and Drevis family secrets.
In Blood Mode: Play as a new main character and trace the history of the cursed Drevis clan.
If you missed it, watch the trailer from September below.