Genshin Impact version 1.1 update launches November 11, adds new playable characters, quests, and more
Meet Tartaglia, Zhongli, Xingyan, and Diona.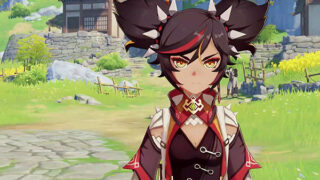 The version 1.1 update for Genshin Impact, dubbed "A New Star Approaches," will launch on November 11, developer miHoYo announced.
The update will add the following new content, via IGN:
New Characters

Tartaglia (voiced by Ryouhei Kimura) (5-star)
Zhongli (voiced by Tomoaki Maeno) (5-star)
Xinyan (voiced by Chiaki Takahashi) (4-star)
Diona (voiced by Shiori Izawa) (4-star)

New Quests

Three full acts of quests in the core storyline will be added, including the grand finale of the Liyue chapter, plus character-specific side quests.

"Unreconciled Stars" Seasonal Event

"Unreconciled Stars" is a two-week season event "which calls on all players to fight back against a sudden and terrible catastrophe facing Teyvat." It adds a series of quests, cooperative challenges, and will offer rewards such as 4-star character Fischl.

Reputation System

A new system that gives players a separate rating in each city, and is built up by competing activities in the surrounding region. Building up reputation offers region-exclusive rewards, including customization options and new items.

New Items

New tools include a portable waypoint, portable stove, treasure compass, and oculus resonance stones. The update will also add a Wind Catcher item, which stores anemograna to create on-demand wind currents, allowing for more exploration.

Monster Camoe

The Forest Hilichurl will appear as an in-game cameo of miHoYo company president Forrest Liu in hilichurl form.

PlayStation 5 Support

Genshin Impact will also be playable on PlayStation 5 "with improved graphics and faster load times."
Genshin Impact is available now for PlayStation 4, PC, iOS via the App Store, and Android via Google Play. A Switch version is also planned.
English
Japanese
Korean