For Honor PS5 and Xbox Series updates announced
Play in 4K resolution at 60 frames per second.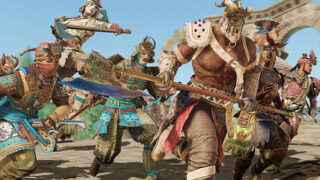 Publisher Ubisoft and developer Ubisoft Montreal will release a free update for For Honor at the launch of PlayStation 5 and Xbox Series platforms that upgrades the game's resolution when played on next-generation consoles, the companies announced. An additional update will follow in early December that improves the frame rate to 60 frames per second on next-generation consoles.
Get the details below.
Graphical Enhancements Available at Launch of Next-Generation Consoles

Next-generation console players will be able to experience the highest-level of graphical enhancements that For Honor has to offer. These enhancements, carried over from the Xbox One X and PlayStation 4 Pro are now available, without compromises, on all next-gen consoles:

Improved water reflections
Improved distance level of detail
Improved shadow resolution
Improved texture filtering
4k resolution (PlayStation 5, Xbox Series X) / 1080p (Xbox Series S)

Free and Seamless Transition for Current-Generation Console Players

If you currently own For Honor on PlayStation 4 or Xbox One, your profile including all purchases and inventory, is automatically shared with its next-generation counterparts (for example: PlayStation 4 and PlayStation 5).

For Honor at 60 Frames Per Second on Next-Generation Consoles for the Start of Year 4 Season 4

The team is happy to announce that For Honor will be playable at 60 frames per second on all next-generation consoles for the beginning of next season Year 4 Season 4 in early December.
For Honor is available now for PlayStation 4, Xbox One, and PC via Steam, Epic Games Store, and Ubisoft.