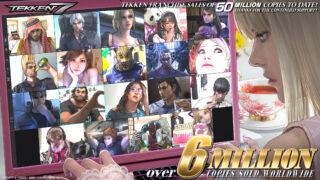 Total sales for Tekken 7 have surpassed six million copies, series director Katsuhiro Harada announced on Twitter.
Total sales for the Tekken series have also now surpassed 50 million units.
It was last reported in February that Tekken 7 sold over five million copies.
Tekken 7 first launched for arcades in March 2015, followed by PlayStation 4, Xbox One, and PC in June 2017. It is currently in its fourth season.