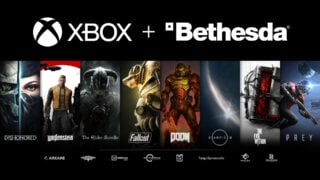 Microsoft will acquire ZeniMax Media, the parent company of Bethesda Softworks, in a $7.5 billion deal expected to close in the second half of fiscal year 2021, the company announced.
Bethesda Softworks is the parent company of Bethesda Game Studios, id Software, ZeniMax Online Studios, Arkane Studios, MachineGames, Tango Gameworks, Alpha Dog Games, and Roundhouse Studios, and owns major franchises such as The Elder Scrolls, Fallout, Wolfenstein, DOOM, Dishonored, Prey, Quake, Starfield, and more.
The acquisition of ZeniMax media grows Microsoft from 15 to 23 creative studio teams. Bethesda Softworks' catalog of games will also be added to Xbox Game Pass. Future Bethesda Softworks titles, including Starfield, will launch in Xbox Game Pass day and date with their release.
"The key point is we're still Bethesda," said Bethesda Softworks senior vice president of global marketing and communications Pete Hines in a statement. "We're still working on the same games we were yesterday, made by the same studios we've worked with for years, and those games will be published by us."
Hines continued, "So why the change? Because it allows us to make even better games going forward. Microsoft is an incredible partner and offers access to resources that will make us a better publisher and developer. We believe that means better games for you to play. Simply put—we believe that change is an important part of getting better. We believe in pushing ourselves to be better. To innovate. To grow."
Bethesda Game Studios' Todd Howard added, "This one is about more than one system or one screen. We share a deep belief in the fundamental power of games, in their ability to connect, empower, and bring joy. And a belief we should bring that to everyone—regardless of who you are, where you live, or what you play on. Regardless of the screen size, the controller, or your ability to even use one."
Update 11:20 a.m.: Head of Xbox Phil Spencer has told Bloomberg that Microsoft plans to honor the PlayStation 5 console exclusivity agreements previously announced for the Tango Gameworks-developed Ghostwire: Tokyo and Arkane Lyon-developed DEATHLOOP, and that future games will be available on "other consoles on a case-by-case basis." Thanks, @JasonSchreier.
Find comments from each party below.
Today is a special day, as we welcome some of the most accomplished studios in the games industry to Xbox. We are thrilled to announce Microsoft has entered into an agreement to acquire ZeniMax Media, parent company of Bethesda Softworks.

As one of the largest, most critically acclaimed, privately held game developers and publishers in the world, Bethesda is an incredibly talented group of 2,300 people worldwide who make up some of the most accomplished creative studios in our industry across Bethesda Softworks, Bethesda Game Studios, id Software, ZeniMax Online Studios, Arkane, MachineGames, Tango Gameworks, Alpha Dog, and Roundhouse Studios. These are the teams responsible for franchises like The Elder Scrolls, Fallout, Wolfenstein, DOOM, Dishonored, Prey, Quake, Starfield, and many more.

Bethesda's games have always had a special place on Xbox and in the hearts of millions of gamers around the world. Our teams have a close and storied history working together, from the amazing first DOOM, and its id Tech engine, innovating games on PCs to Bethesda bringing their first console game to the original Xbox, the groundbreaking The Elder Scrolls III: Morrowind. Over the years I've had many deep conversations with the creative leaders at Bethesda on the future of gaming and we've long shared similar visions for the opportunities for creators and their games to reach more players in more ways.

Just as they took the bold first steps to bring The Elder Scrolls franchise to the original Xbox, Bethesda were early supporters of Xbox Game Pass, bringing their games to new audiences across devices and have been actively investing in new gaming technology like cloud streaming of games. We will be adding Bethesda's iconic franchises to Xbox Game Pass for console and PC. One of the things that has me most excited is seeing the roadmap with Bethesda's future games, some announced and many unannounced, to Xbox console and PC including Starfield, the highly anticipated, new space epic currently in development by Bethesda Game Studios.

Like us, Bethesda are passionate believers in building a diverse array of creative experiences, in exploring new game franchises, and in telling stories in bold ways. All of their great work will of course continue and grow and we look forward to empowering them with the resources and support of Microsoft to scale their creative visions to more players in new ways for you.

All of our work, and the foundation of our relationship with you, starts with a commitment to deliver a breadth of amazing games to discover and play on Xbox. Over the last few weeks, we've been excited to share more detail on important elements of a plan we've been building towards for years. A plan that is the fulfilment of a promise, to you the Xbox player, to deliver the most performant, immersive and compatible next-generation gaming experiences, and the freedom to play blockbuster games with your friends, anytime, anywhere. Today is a landmark step in our journey together and I'm incredibly energized by what this step means for Xbox.

Please join me in welcoming all of our friends at Bethesda to Team Xbox.

Today we announced we're joining the Microsoft family.

And if you haven't had a chance to read what Phil Spencer and Todd Howard shared in their posts this morning, be sure to check them both out.
When you work at a place as long as I've worked at Bethesda—just a month short of 21 years—you see some things. Chief amongst them is change. When I started, Bethesda was not much more than a handful of people. The team working on Morrowind fit in a couple of offices, and there were probably six or seven of us spread across everything else.

Bethesda Softworks, our parent company ZeniMax Media, and our many internal studios, now employ thousands of talented people working in publishing offices and development studios around the world. We've gone from one internal studio to many; from a focus on single-player fantasy RPGS to developing massive MMOs, first person shooters, and everything in between. The world, our industry, and our company has changed a lot in the 34 years since Bethesda Softworks was first founded. Today, it changed again. And I know that brings up questions.

But the key point is we're still Bethesda. We're still working on the same games we were yesterday, made by the same studios we've worked with for years, and those games will be published by us.

So why the change? Because it allows us to make even better games going forward. Microsoft is an incredible partner and offers access to resources that will make us a better publisher and developer. We believe that means better games for you to play. Simply put—we believe that change is an important part of getting better. We believe in pushing ourselves to be better. To innovate. To grow.

And, we have a long history of working with Microsoft. Our companies share many of the same basic principles. We believe in a culture that values passion, quality, collaboration, and innovation. When I think back to the first time we decided to shift from being a PC-only developer and make Morrowind for the original Xbox, it was a move that countless people said would never work…nobody on consoles wanted a game that big and complex. But Microsoft believed in us and so did you. And now RPGs of all shapes and sizes are hugely successful on consoles.

Yes, it's a big change for us, but after taking a minute to absorb the magnitude of this acquisition, we're going to continue doing what we know and love: making great games. We're going to keep trying new things. We're going to take the same passion we've poured into what we do, and the passion that our community brings to the things we make, and do even better.

And soon the conversation will move on from this deal to talking about our games again. And I can get back to answering the questions that get us all excited. Tell me more about DEATHLOOP. When can I see more Ghostwire? What's coming in Q4 for The Elder Scrolls Online? I want to see more of the DOOM Eternal DLC. WHEN THE HELL WILL YOU TELL ME ABOUT STARFIELD? I'm excited for those conversations and look forward to talking to you about all of that—and much, much more—-in the weeks, months, and years ahead.

I believe in the people I work with. I believe in the company we have created together. I believe in the communities that have formed around the games we make. And I believe today's announcement is just the next in a long line of changes in our history that will lead to bigger and better games for all of us.

Pete Hines
SVP, Global Marketing and Communications

I have been incredibly blessed to spend my entire career at, and help build, one of the best places to make games in the world—Bethesda.

And I've had the joy of doing it with some of the most talented, humble, and passionate people there are. They are part of my family, and my good friends. I have also had the pleasure of working with, and partnering with, many of the best gaming and tech companies in the world. But our longest, and closest partner during my career, has been Microsoft.

Today we join them, and I wanted to share some personal thoughts on what it means and our shared vision.

The trajectory of Xbox, and the trajectory of Bethesda, in many ways have gone hand in hand.

From our beginning, we had primarily been a PC developer. In 1999, two things happened. One, Bethesda became part of a brand-new startup—ZeniMax Media. And Microsoft started development of their first video game console—the Xbox. I can remember my first trip to Redmond to discuss the new system and bringing our next game, Morrowind, to the Xbox.

I was dubious Xbox Morrowind would be worth the time, somewhat on a technical level, but more so from taking a hardcore RPG and moving it from a PC desktop experience to a controller-and-sofa experience. If we made it work, would people want it?

Microsoft and their new Xbox crew had a view, that I came to share completely. Shouldn't we allow anyone to have this experience? Why does it matter where the screen is or what the controller is? There are many people without the same access, and we can bring it to them.

Morrowind would go on to become one of the best-selling Xbox games of all time, behind Halo, another PC style game some said wouldn't work. Its success paved the way for the growth of our company, and proved the point – people wanted this experience, regardless of device.

Microsoft quickly let us in on their next system, the Xbox 360. More than a PC port, our aim with our next game, Oblivion, was to usher in the next generation of gaming. With each game, from Fallout 3 to Skyrim, our studio and company grew, adding brilliant and like-minded studios across the globe. All of us sharing in the belief that expanding the reach of gaming was fundamental, whether it was on a pc, console, your phone, or the cloud.

With each new console cycle, we evolved together. From bringing mods to consoles with Fallout 4, now over a billion downloads, to the latest technologies fueling Xbox Series X/S. These new systems are optimized for the vast worlds we love to create, with generational leaps not just in graphics, but CPU and data streaming as well. It's led to our largest engine overhaul since Oblivion, with all new technologies powering our first new IP in 25 years, Starfield, as well as The Elder Scrolls VI.

Like our original partnership, this one is about more than one system or one screen. We share a deep belief in the fundamental power of games, in their ability to connect, empower, and bring joy. And a belief we should bring that to everyone—regardless of who you are, where you live, or what you play on. Regardless of the screen size, the controller, or your ability to even use one.

We can't think of a better group of people to do that with than those at Xbox. We have friendships that go back to those original days. From Phil to his senior leaders to developer support, they don't just talk about putting players first, they passionately live it.

At Bethesda, we've been lucky enough to create games we love, and have an audience who loves them as much as we do. I have personally been humbled by the many industry honors I have received, as they belong to the entire studio. But one has always stood out to me for a special reason. When I received the Lifetime Achievement Award at GDC, I joked in my acceptance "I wonder how many achievement points this one is worth?" At the end of the ceremony, some good friends from Microsoft congratulated me and said they'd find out. A few months later I was given a code to a game they had created, named after me and locked to my account. When ran, it unlocks a single achievement – "Lifetime – 1000pts." It still sits in my list when I check, and I smile every time.

It has been a lifetime. But there's more to come and achievements to unlock together. We hope you join us.

All the best,
Todd

Todd Howard
Bethesda Game Studios