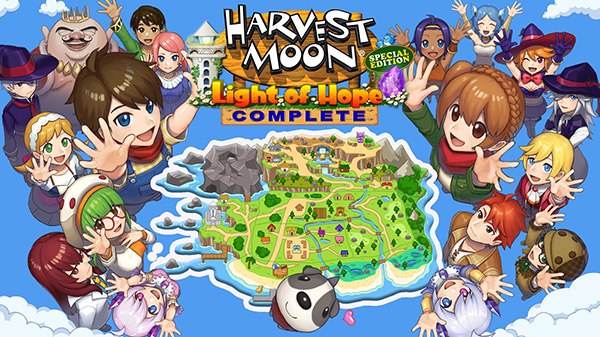 Publisher Natsume and developer appci have released Harvest Moon: Light Of Hope Special Edition Complete for Xbox One and Windows 10 via the Microsoft Store for $29.99.
Harvest Moon: Light Of Hope first launched for PC via Steam in November 2017, followed by PlayStation 4 and Switch in May 2018, and iOS and Android in September 2018.
Here is an overview of the game, via the Microsoft Store:
About

Looking for a fresh start and some new surroundings, you set off on a voyage to begin your new life!

Unfortunately, the weather has different plans, as your ship is hit by a storm, and goes down! You drift into a small harbor town, now in shambles from the storm, where a young doctor named Jeanne saves your life. The town has been deserted, but you're never one to back down from a challenge! It will be up to you to help rebuild the town and save the lighthouse… but it won't be easy! Nevertheless, with some hard work growing crops, tending livestock, and gathering materials for repairs, you will be able to make new friends, start a family, revive the lighthouse, and save the town, your new home!

The Complete version includes the full game and all the downloadable content: Four new marriage candidates, decorations, outfits, requests, and more!

Key Features

Collect important materials to rebuild the town and restore the lighthouse!
Complete requests from villagers to unlock new areas and items!
Grow crops, tend livestock, and gathering materials, either by yourself or with a co-op friend!
New and unique festivals, including the Dog Racing Festival!
Make new friends, get married, and start a family from a variety of bachelors and bachelorettes, including a secret one!