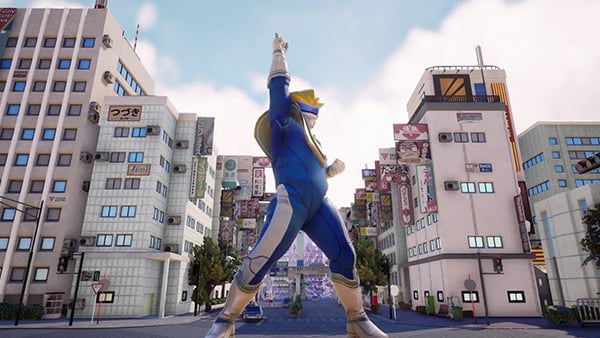 Passion Republic Games has released a new trailer for multiplayer monster brawler GigaBash introducing new playable character Gigaman.
Here is an overview of the game and character, via Passion Republic Games:
About the Game

GigaBash is a four-player arena brawler, set in a world filled with giant monsters and heroes. Choose from a colorful cast of characters inspired by classic monster tropes, each possessing their own unique skillset and abilities. Pit against your friends in a destructible arena in a battle for dominance. The game emphasizes accessibility and pure fun, seeking to unite players on the couch for a casual bash or a competitive brawl. These design choices have led them to win the Indie Prize Award from Dengeki and several other Indie Prize nominations such as 4Gamer and Famitsu. Their success in LevelUp KL 2019, the biggest game festival in Malaysia, has also secured them the Grand Jury Award, Audience Choice Award, Best Game Design Award, and Best Technology Award. While the game is still in development, their efforts have garnered the hearts and support of the local gaming community.

About Gigaman

Gigaman, the former symbol of hope for humanity's stand against the growing cases of Kaiju invasions. After a long hiatus, the world calls for this steadfast hero to return once again, bringing along a bit of… extra weight from his early retirement.

Gigaman's flashy abilities derived from his extravagant personality. Even though he gained some weight since his last appearance, he still retains most of his agility, allowing him to pull off the many acrobatic skills he developed in his prime. These include cartwheels, flying kicks, dive kicks, somersaults, and tornado kicks. As a veteran in kaiju fighting, he has learned to control his powers to avoid collateral damage, making him deal reduced damage to the buildings around him. Although this may be seen as his weakness, his heroic nature allows him to tap into the power of the 'Titan Spirit' living within him. This unlocks his ability to use Giga Energy-based attacks such as his iconic Giga Beam and many more. Return him to his prime by transforming to his S-class form and watch the monsters turn to fear as the forgotten hero makes his comeback.

Gigaman is ideal for players looking for a high mobility type, fast-paced, combo-oriented character. His core mechanics require mastery in spacing and precise timing in each attack. In the right hands, Gigaman can overwhelm his foes in an unending string of air juggles and combos, perfect for players who prefer to beat their opponents with style points.
GigaBash is in development for PlayStation 4 and PC.
Watch the trailer below.