Genshin Impact Japanese TV commercials
Now airing across the major urban areas of Japan.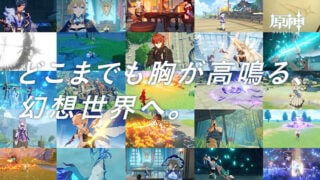 miHoYo has a set of Japanese TV commercials for free-to-play open-world RPG Genshin Impact, which have begun airing in major urban areas across Japan such as Kanto, Kansai, Hokkaido, Sendai, Nagoya, Shizuoka, Hiroshima, and Fukuoka.
Genshin Impact is due out for PlayStation 4, PC, iOS, and Android on September 28. A Switch version is also planned, but a release window has yet to be determined.
Watch the TV commercials below.
"The Mysteries of This World"
"An Introduction to Genshin Friends"
"Elemental Battles"
"A New World"
"An Ever-Expanding World"