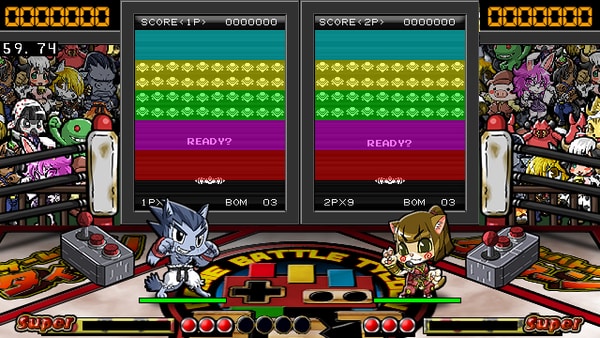 PLAYISM and Kadokawa Corporation have announced the winners of the Pixel Game Maker MV Game Development Challenge that ran from October 2, 2019 to March 31, 2020.
The titles were judged by Koji Igarashi, God of War art director Rafael Grassetti, La-Mulana developer Takumi Naramura, and Cave Story creator Daisuke "Pixel" Amaya.
The winners are as follows:
Grand Prize Award: Game Battle Tycoon

Game Battle Tycoon, a multitasking fighting game with mini-games mixed in by Retsuzan, was selected as the one million yen grand prize winner. Choose from a variety of cute and goofy combatants and face off in a 2D arcade-style fighter while simultaneously juggling one of five different mini-games. Game Battle Tycoon is set to be ported to Nintendo Switch by Kadokawa Corporation.

Side View & PLAYISM Award: Timothy and the Tower of Mu

Timothy and the Tower of Mu, a challenging and unforgiving retro-style 2D action platformer about a young boy fighting a god by Kibou Entertainment, earned both the Side View and PLAYISM Special Awards. Mixing old-school elements with new ideas, puzzles and RPG elements to challenge even proficient platform-lovers, it won 50,000 yen (approx. $475 USD) and a publishing offer from PLAYISM for platforms to be announced ahead of its 2021 launch.

Pixel Game Maker Select Award: Z-termination

Z-termination, a post-apocalyptic action-adventure game with a customizable gameplay and progression system by Kaizen Nero, was awarded the audience-chosen Pixel Game Maker Select Award and 50,000 yen. Explore the wasteland and consider different approaches to conflict. Choose between sneaking, fighting, planning traps, and more while adventuring through handcrafted stages.
Pixel Game Maker MV is available now for PC via Steam. It regularly costs $84.99, but is available at 60 percent-off discount price of $33.99 until August 10.
Watch a trailer showcasing all three winners below.