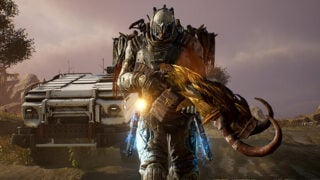 Outriders will launch for Stadia in 2021 following its holiday 2020 release on PlayStation 5, Xbox Series X, PlayStation 4, Xbox One, and PC via Steam, publisher Square Enix and developer People Can Fly announced.
"It is my pleasure to announce that Outriders will be available on Google Stadia," said People Can Fly CEO and studio head Sebastian Wojchiechowski in a press release. "One of the core concepts of Outriders is that you can play it your way, with a character progression system that allows for unrivalled creativity and flexibility. With the exciting and innovative Cloud technology of Google Stadia, you will be able to play your way, anywhere."
Here is a brief overview of the game, via Square Enix:
Outriders is a co-op RPG shooter with brutal powers and intense action, deep RPG mechanics, and a compelling story set in a dark sci-fi world. Players will become an Outrider, a fallen pioneer from a forgotten past, reborn with devastating powers. Define your play style, level up your powers, and collect brutal guns and gear on an epic journey of survival.
Watch a new trailer below.