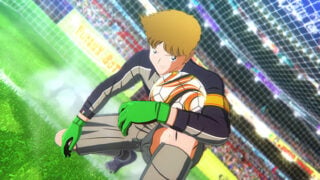 Bandai Namco has released a new trailer for Captain Tsubasa: Rise of New Champions introducing Italian Junior Youth characters Leonardo Rusciano and Gino Hernandez.
Here is an overview of the team and its players, via Bandai Namco:
Italian Junior Youth

A team that is said to have the best defense in this championship, symbolised by goalkeeper Hernandez. This team aims to stand on top of the world by enhancing the long-established 'counterattack football', adding new members to support the offence, which tended to be insufficient.

Leonardo Rusciano – A forward for the Italian Junior Youth team. His personality is a bit problematic, but he has great offensive talent. He can counterattack single-handedly.
Gino Hernandez – A goalkeeper and the captain of the Italian Junior Youth team. He is a 'Perfect Keeper' who let in no goals for an entire year by blocking opponent shots with his "Golden Right Hand."
Captain Tsubasa: Rise of New Champions is due out worldwide for PlayStation 4, Switch, and PC via Steam on August 28. Read more about the game here, here, and here.
Watch the trailer below.