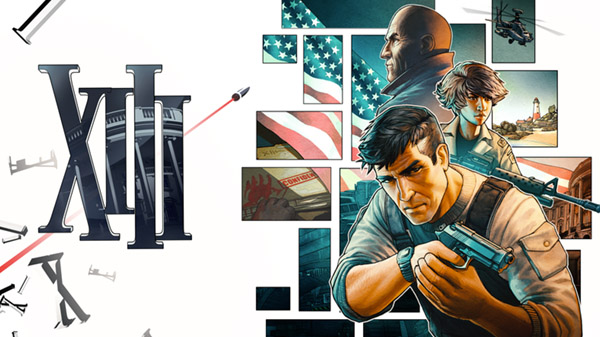 The remake of November 2003-released cel-shaded first-person shooter XIII will launch for PlayStation 4, Xbox One, Switch, PC, and Mac on November 10, publisher Microids and developer PlayMagic announced.
Here is an overview of the game, via Microids:
Who are you, really?

XIII is a remake of the cult first-person action game that was initially released in 2003. You play as "XIII," a man without an identity, in a solo campaign with numerous twists and turns. Inspired by the eponymous graphic novel, the game features a completely reinvented and unique cel-shading design. In XIII, players can also take part in fierce multi-player fights

The country remains in a state of shock following the assassination of President Sheridan. You wake up, wounded and with amnesia, on a deserted beach on the east coast. The only clues as to your identity are a tattoo of the number XIII near your collarbone and a locker key. Even though your memory is failing, you discover that you have the reflexes of a highly trained professional fighter. You set off in search of your past, discovering that you played a role in the murder of the President of the United States of America, and revealing the most astounding conspiracy ever hatched in the country's history.

Key Features

The remake of the 2003 cult FPS initially released on PC, PlayStation 2, Xbox and Nintendo Gamecube.
A new artistic direction that respects the original work and its iconic cel-shading design.
Numerous references to the eponymous graphic novel, with onomatopoeia, speech bubbles, panels and more.
Music and voices from the original version.
A conspiracy-based plot with numerous twists and turns.
Varied gameplay with action, infiltration and exploration phases.
A breathtaking solo campaign with 34 levels.
A brutal arsenal of 15 weapons to get your memory back.
Fierce multi-player fights.

Limited Edition

The Limited Edition includes the following:

A two-sided metal Collector box.
A unique Collector sleeve.
Three art prints.
The original game soundtrack in digital format.
The XIII Golden Classic Weapon Skins Pack.

Pre-Order Bonuses

Pre-order XIII to unlock the Golden Classic Weapon Skins Pack.
Watch the latest trailer below. View a new set of screenshots at the gallery.