Toro and Friends: Onsen Town coming west on June 23
First released in Japan in October 2019.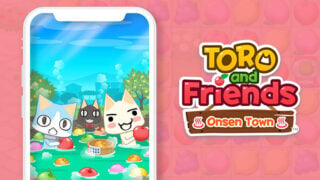 PiG Corporation will release the ForwardWorks-developed match-three puzzle game Toro and Friends: Onsen Town for iOS via the App Store and Android via Google Play on June 23 worldwide in over 100 countries, the company announced. Pre-registration is available now.
Toro and Friends: Onsen Town first launched as Toro to Puzzle: Doko Demo Issyo in Japan in October 2019. Here is an overview of the game, via its store pages:
Meet Toro and and All His Friends in their First Mobile Adventure

Pick-up and play match-three puzzle game

Gaming has never been easier!
Match three or more fruit to create awesome boosters!
Enjoy the refreshing bursts of color!

Immersive story; funny characters!

Follow Toro to find the mystical Onsen that can turn him human!
Teach the Pokepi new words and have hilarious conversations!"

Cute 4D Pokepi!

Decorate the village with the cute Pocket People affectionately known as Pokepi!
Did we mention how adorable they are? They even won an award for cuteness!

Meet Your New Friends

Toro – An adorable and naive white cat who dreams of becoming human.
Sora – The feline face of the Soraya Inn. He reminisces of the days with his owner and works hard to fix the town.
Kuro – A nonchalant black cat who loves playing around and drinking.
Jun – The hippity-hoppity bunny who you can find lounging in-front of the TV or belting out classics at karaoke.
Pierre – A wanderlust dog who dreams of wandering the romantic streets of Paris.
Ricky – The most unapologetically confident frog in the entire world.
Suzuki – A sincere, diligent robot that studies round-the-clock, day and night, hoping to invent something revolutionary."

Grow the Pokepi's Vocabulary and Enjoy Diverse Conversations

Toro is an extremely curious cat that wants to know as much about human culture as possible. With expanded knowledge, Toro can become a real human just like you! Teach Toro and the other Pokepis new words and change the way they interact with other in town. Who knows what these chitty Pokepis will say?

A Heart-Warming Story of One Cat's Quest to Become Human and a Town's Tale of Redemption

One day, out of the blue, you receive an invitation for a tour of Amatsu-Sora. A peaceful town in the mountains famous for its beautiful vistas, onsens and fruit orchards.

You arrive on a tour bus to find streets are deserted, life is gone and the once bright town is now desolate and lonely… You see Toro at the broken town sign. He lets you know why he is also in Amatsu-Sora. ""Hello friend, I heard rumors of a mystical onsen in the town that can turn me into a human. I came to find it but I don't think I can do it on my own. I need your help, mew~""

Kindly, you decide to help him. After fixing the battered sign, you and Toro are made tour ambassadors by the shy blue cat Sora. Together, you, Toro and friends, breath life back into the town and restore the magical experience that used to entice travelers to Amatsu-Sora!"

Have Even More Fun with Friends!

Through your friends in the game, you can send and receive hearts that you need to complete puzzles to earn stars and explore the town! Your Pokepi friends can also learn from your friends too! So maybe you'll learn new things about your friends from the Pokepi.
Visit the official website here.