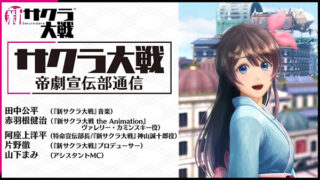 Sega will host the 14th "Sakura Wars Imperial Theater Propaganda Department Report" official broadcast on June 19 from 20:00 JST to 21:30 JST, the company announced. It will be live streamed on YouTube and Periscope.
The broadcast feature various information on the Sakura Wars series with a focus on Shin Sakura Wars the Animation, acting as a special before the anime's final episode.
The live stream will feature the following presenters:
Kouhei Tanaka (Sakura Wars composer)
Kenji Akabane (Valery Kaminski voice actor in Shin Sakura Wars the Animation)
Yohei Azakami (Mission Propaganda Department leader / Seijuurou Kamiyama voice actor)
Tetsu Katano (Sakura Wars producer)
Mami Yamashita (assistant MC)
Sakura Wars is available now for PlayStation 4 worldwide. Read more about the game here, here, here, here, here, here, here, here, and here.