Brigandine: The Legend of Runersia interview with producer and game designer Kazuhiro Igarashi
A chat ahead of the strategy RPG's worldwide release.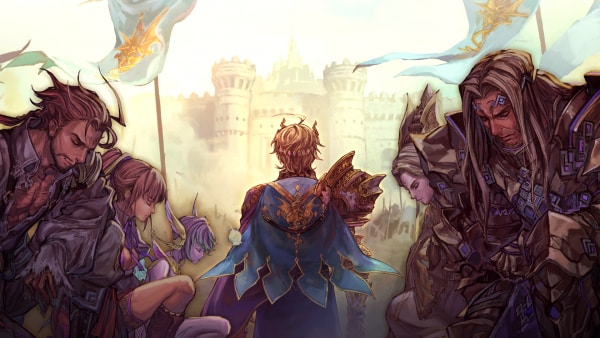 Gematsu recently spoke to Kazuhiro Igarashi, producer and game designer on Brigandine: The Legend of Runersia, who answered your questions on the sequel to the 20 year-old strategy RPG. Igarashi discussed why a new Brigandine is happening now, Rune Knights and monster classes, evolution paths, nations, downloadable content, potential ports, and more.
Get the full interview below.
—Brigandine is now over 20 years old and has only had one game (and a remake). How and when did plans for a new title begin?
Kazuhiro Igarashi, Producer and Game Designer: "You could technically say I've been planning for a new Brigandine installment since the launch of the first installment, Brigandine: The Legend of Forsena in 1998. I started at Happinet that same year and was a big fan of Forsena when it came out. It became a dream of mine to work on the next game, but unfortunately E3 STAFF [Happinet subsidiary] disbanded before I could join.
"When we were able to relaunch the game division about 10 years ago, I was finally able to realize my dream and start bringing my vision of Runersia to life. We took a few years to gain experience as game developers and after 20 years we finally began to revive the Brigandine franchise with Runersia."
—Why did you decide upon building a new setting rather than a remake of the original Brigandine?
Igarashi: "Working with a new team of developers, we really wanted to create a new world together and build upon the Brigandine universe. This game takes place on an entirely different continent than the original, allowing us to create a new story line with new characters, politics and nations for players to explore.
"Veteran fans will be able to see there are several aspects from the original game that tie the series together. From particular world-building elements and the signature country conquest strategy game design, the team was very conscious to make this new experience a true Brigandine experience.
"We also believe this makes Runersia an easy point of entry for new players while creating a fun, fresh take for returning fans."
—What were the key aspects or elements of the original that you wanted to include in The Legend of Runersia?
Igarashi: "From early development, it was very important to us to carry over the gameplay loop that helped Brigandine achieve cult-classic status among strategy lovers. The gameplay is still very flexible and gives players a lot of freedom in their strategy. Training, organization of units and battles are all in the players hands.
"We understand this can be a lot to take in, so we made sure to add a tutorial mode separate from the main game. This should help players learn the ropes of Runersia and give them as much agency as possible when playing. You can also check out the free demo on Nintendo eShop which will give you a good primer.
"We were also sure to create a rich fantasy world with deep storylines for players to dive into. Each character and nation have their own unique histories that intertwine to create a fully fleshed out in-game world. Since players will invest hours into our game, we wanted Runersia to be just as captivating as the original."
—What inspired having non-human Rune Knights in The Legend of Runersia? (Pick, Toby, Umimaru, etc.)
Igarashi: "We were lucky enough to have Kenji Terada heading up the script for this game. He wrote the stories for the first three Final Fantasy titles, amongst others. While you can define all those games as fantasy worlds, they each have their own unique feel to them. In this game, we wanted to create a traditional fantasy world sprinkled with bits that felt somehow familiar.
"One of the ways we went about this was by adding non-human races for a more diverse cast of characters. The differences between humans and non-humans have a large effect on a character's individuality. Various races, each with their own values, coming together to fight for a common purpose–that is what makes for a great story.
"Other than Pick, Toby, and Umimaru, there may also be other non-human characters you won't have the opportunity to meet in the demo, so look out for them in the full release!"
—Are all the possible Rune Knight and monster classes available in the demo? Or are there unshown alternative paths?
Igarashi: "Plenty more awaits in the full version that is not available in the demo. There are unaffiliated Rune Knights as well as hidden main knights in certain nations that you will only meet later in the game. And while all the monsters available for summoning are in the demo, if you were to ask if those were the only monsters that exist on Runersia, I would have to reply 'No.' The demo barely scratches the surface of this game. You may be surprised by the harsh battles that await you on your journey."
—How did the team decide on human and monster evolution paths?
Igarashi: "We started with the knight and monsters classes from the previous game, then built on each individual unit from there. That's how two units of the same species and class can end up having different skills and magic spells at their disposal. We also added new classes and species to allow for even more tactical depth while fighting.
"Each unit was designed while thinking about the various ways they might be utilized in battle once they reach higher tiers and have access to more advanced abilities through changing classes. Of course, their individuality as distinct species even at the initial stages was no less important."
—Out of the game's six revealed nations, which is your favorite / stands out to you the most?
Igarashi: "One of my favorite aspects of Runersia is how complex the nations are. The Brigandines of Justice, Glory, Freedom, Sanctity, Ego each offer a very different experience, and each ruler follows their own unique ideology to accomplish their goals of conquest. Since I have helped build each nation it is impossible for me to come up with an answer and when I ask my colleagues the same question, they all come up with different answers. The depth in the details provide so many different experiences, I'm looking forward to hearing what players think of each nation!"
—Can you say anything about that seventh mystery nation?
Igarashi: "As much as we would love to tell you more, it would only serve to ruin the fun of discovering all the hidden story developments for yourself. We realize that disclosing this kind of information would be great from an advertising standpoint, however one of our most important jobs as developers is to make sure the fans who have waited so patiently for the full release are able to fully enjoy a fresh, exciting experience without being spoiled ahead of time."
—How do you feel about the evolution of the tactical RPG and it becoming more mainstream?
Igarashi: "I love TRPGs and war simulations games! That's a large part of why I want to continue putting my best effort into introducing as many as newcomers as possible to the wonderful world of lesser known games like Brigandine. I believe tactical RPGs are most likely going to gradually grow more casual in terms of mobile and console gaming. As for PC gaming, I can see them continuing the more traditional hardcore style of war simulation. If or when a time comes when these types of games become more mainstream, it will be because of the hard work and effort of the developers who've evolved the TRPG experience over the decades."
—Do you see Brigandine as an influence on other games that followed? On the reverse, have other games inspired The Legend of Runersia?
Igarashi: "We certainly considered adopting some of the great elements other games have to offer, but this game was not heavily influenced by other titles. The game system and concept of the Brigandine games is distinct, and we decided to put a heavy focus on retaining that during development. I believe Brigandine is unique, even among other similar tactical RPG titles that have been released recently."
—What went into the decision of doing a worldwide release for a niche title such as this? How has that affected development?
Igarashi: "When we started development we were aware of how popular the strategy genre had become in Europe and North America, so it was important to the team to create a game that everyone could enjoy globally. Knowing that Brigandine: The Legend of Forsena still had a following in the west and since Brigandine: Grand Edition had never launched there, we thought that another Brigandine entry was long overdue for western fans.
"We didn't want anyone feeling left out and we've taken steps so fans could access information at the same time. Some of those steps include updating our official website in Japanese and English and making the Runersia demo available to everyone on the same day. We're very excited to be launching the Japanese and English versions simultaneously."
—Are there any plans for post-launch downloadable content?
Igarashi: "We did initially discuss possible downloadable content in early development, but we quickly decided it would be better to just include everything from the start. Rather than working on additional downloadable content to expand the game, we focused on making Runerisa a very in depth experience. You can spend 20 to 40 hours of play time per nation, adding up to 120 to 240 hours if you play all six nations. I think hardcore players will be pleased to know that after they beat the game there is a great deal of replayability, replaying the game on challenge mode you is sure to grant a different experience."
—Are there any plans to bring The Legend of Runersia to other platforms such as PlayStation 4 or PC in the future?
Igarashi: "We are currently focusing on the Switch release at the moment, but I would be happy to see the game come to other consoles if possible. If we are able to release new ports we would not be adding any additional content, so players that are interested will not have to worry about buying additional copies to play new features."
—Before we close out, can you please share a message with our readers?
Igarashi: "Well first we'd like to express our heartfelt gratitude to Gematsu for organizing this interview so we can respond to fans questions directly! If other fans had similar questions and missed out on the tweet, I'm sure they'll find their way back here and discover the answer. Don't think that I've forgotten that Gematsu caught wind of this game and broke the story before the official announcement! (laughs). Don't worry Sal, there were no hard feelings! That's part of why readers come here, plus the leak was a mistake was on our end.
"And last but not least, a special thank you from the team to all the readers that submitted questions. We can tell from the quality of the questions that you have a deep love and understanding of the games you play. If Gematsu gives us the opportunity to speak to you again after launch, we'd love to do this again, so we hope it won't be the last time.
"For now, we're giving Gematsu five Nintendo Switch keys (North America region) for Brigandine: The Legend of Runersia to share with you. Good luck!"
—Thank you for your time, Igarashi-san!
Brigandine: The Legend of Runersia is due out digitally on June 25 worldwide. A demo is available now via the Nintendo eShop.
Editor's Note: I will give out the keys via Twitter in the next day or so. Follow us @gematsucom to be notified.