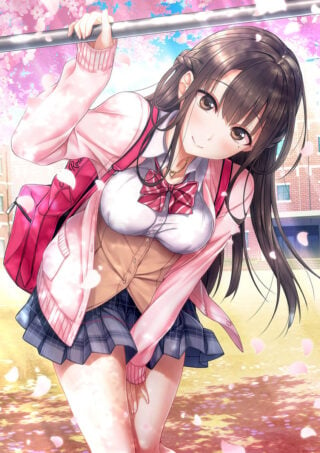 Entergram will release Giga-developed romance visual novel Ai Kiss for PlayStation 4 and PS Vita on September 24 in Japan for 6,800 yen, according to listings at retailers such as 7net (2, 3, 4), Amazon (2, 3, 4), Biccamera (2, 3, 4) , and Yodobashi (2, 3, 4).
A 10,000 yen limited edition will also be available, which includes a "Summer Date with An Sakurada" B2 tapestry, Saegusa sisters SD acrylic key chain, vocal song CD "Jumpin' Kiss+," the original soundtrack CD "Houkago Natural Make," and a Ayame Saegusa special mini replica illustration card.
Ai Kiss first launched for PC in October 2019.
Here is an overview of the story, via VNDB:
The protagonist, Ikenaga Ren returns after several years away from his hometown, returns to enroll in the Private Arimori Academy, an art school.

On the first day of school, he unexpectedly reunites with the two of his childhood friends with whom he used to paint illustrations in the past, twin Saegusa sisters Hinata and Ayame. While surprised and confused by how they have grown, he takes his time to return their relationship to how it has been in the past.

Furthermore, he meets a third year Kanno Junko who has a very strange theme running for her art, and a second year Sakurada An who is interested in stage design and subculture. Meeting these two makes his daily life speed up even more.

This is the story of how "like" turns into "love"…