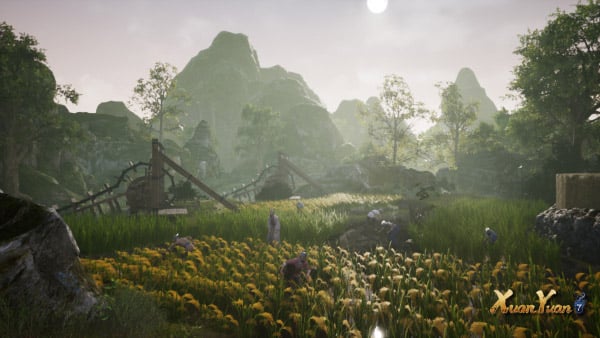 Softstar Entertainment has released a new trailer for Xuan-Yuan Sword VII introducing the game's environments.
Here is an overview of some environments, via Softstar Entertainment:
Landscapes between Day and Night

The environment cycle between day and night brings a more realistic game world to players. From mountains with falls and rivers to the villages with peace and joy, players can roam in both natural landscapes and culture.

Land of Peach Blossom

Featured with oriental aesthetic, the land of peach blossom shows a mystery wonderland in Chinese fairytale. Amid forest full of peach blossoms, the lush grass flourishing along with pond and stream, peach petals fall in riotous profusion.

An Exclusive Clockwork World

Mohists and their Clockwork technology are one of the most distinguishing features in the Xuan-Yuan Sword series. In this video, we can have a glimpse of the exclusive clockwork world. Luban Ruins, the classic scene in previous games, will be revitalized with a new appearance in 3D.
Xuan-Yuan Sword VII is due out for PlayStation 4 and PC via Steam in 2020. Read more about the game here.
Watch the trailer below. View a set of screenshots at the gallery.