What the Golf? for Switch launches May 21
"The golf game for people who hate golf."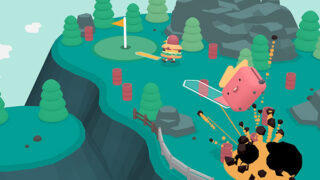 The Switch version of What the Golf? will launch via the Nintendo eShop on May 21 for $19.99 USD / €19.99 / £17.99, developer Triband announced. Pre-orders are available now with a 25 percent-off discount.
What the Golf? first launched for Apple Arcade in September 2019, followed by PC via the Epic Games Store in October 2019.
Here is an overview of the Switch version, via Nintendo.com and Triband:
The Golf Game for People Who Hate Golf
A silly physics-based golf parody where every golf course is a new surprising type of golf, some brilliant or hilarious, others so absurd you will ask yourself: What the Golf?
Bring your car to the driving range, golf a bird to get a Birdy, or a house and get a Home In One!
This game is made by people who know nothing about golf and it will not make you a better golf player!
New Party Mode
This new and exciting local two-player Party mode allows friends to compete in a cavalcade of very, very serious golf courses in an attempt to make it to the flag, but both play at the same time (you know, like real golf). The Nintendo Switch version integrates some of the Switch functionalities like the touch screen and the gyro for select levels and also adds a few… surprises for players too.
Watch a new trailer below.