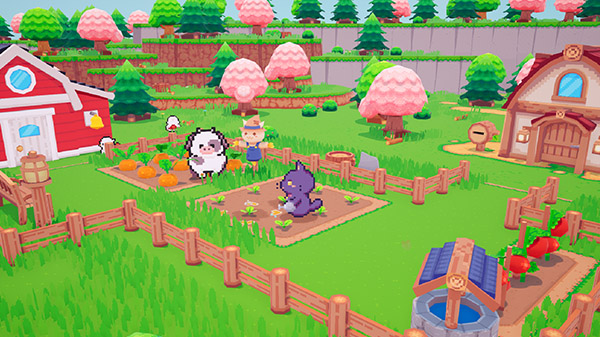 Bluecurse Studios has launched a Kickstarter campaign for Snacko, a farming adventure game due out for PC via Steam in 2021 that follows cats Momo and Mikan as they start a new life on a seemingly deserted island. Armor Games Studios also announced that it will publish the title.
Here is an overview of Snacko, via Armor Games Studios:
About

Snacko is a video game about two cats starting a new life on a mysterious island. You'll farm, fish, and explore while building a community… and eventually discovering the secrets of Snacko's past!

Step into the paws of Momo and her best friend Mikan as they arrive on a deserted island with a mysterious past to try to make a place they can call home. Even with some reluctant help from curmudgeonly caretaker Nobu, these kitties have their paws full trying to rebuild the island from scratch. As Momo, with Mikan's help, you'll grow crops, take care of animals, go fishing, and more, while choosing who to invite to help populate your budding village, and maybe discover the secrets of the island's past along the way.

Snacko launches on Kickstarter on May 26 to help build a passionate community around the game who can provide valuable feedback throughout the development process. Drawing inspiration from, and building on, classics like Rune Factory, Story of Seasons, and The Legend of Zelda series, Snacko hopes to take players on an unforgettable farming adventure.

Key Features

Grow a wide variety of crops across all seasons.
Unlock fertilizers, seed makers, and much more to help your farm flourish.
Craft tools to expand your farm, and decorate it as you please.
Build Your Way: snap, rotate, or stack game objects however you want.
Unlock, post job listings, and send letters to bring animals from around the world to live on your island.
Fill your farm with lively creatures and spirits to make your life easier.
Take on part-time jobs or other tasks to help your village thrive.
Go beyond your farm and village to the four surrounding isles.
Find and grow new ingredients to make tasty, useful recipes.
Discover the truth behind why the island's inhabitants vanished.
Watch a new trailer below. View a set of screenshots at the gallery.