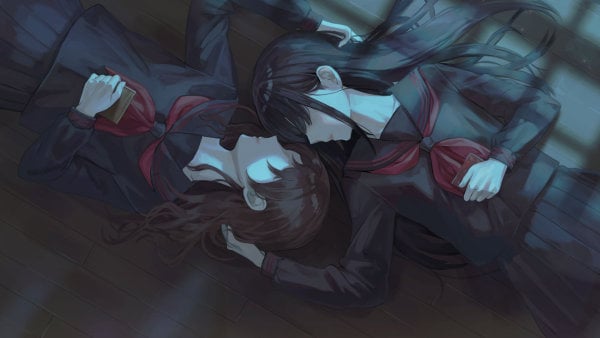 Nippon Ichi Software has released new information and screenshots for Yoru, Tomosu, its horror visual novel set in a historic girls' high school that depicts the story of five girls involved in a strange incident, introducing the story, prologue, and keywords.
Get the details below.
■ Story

Suzu and three other members of the koto music club at Kagurahara Girls Academy are putting in practice at a voluntary summer training camp at the temple where Suzu lives to prepare for the fall competition.

…briefly.

For the four girls, who should rather be referred to as four girls academy-raised close friends having a sleepover, there is no excuse not to get excited.

From the simple thought of, "since we're at a temple on a summer night…," Rui begins to tell a ghost story about the school.

■ Prologue

Ghost Story

Taisho era.

At a boarding school for young ladies, which stands quietly on the outskirts of town, and where students are restricted from leaving the school grounds even on days off, a secret game called "Pseudo Sisters" in which girls would become "sisters" until graduation was all the rage.

"Pseudo Sisters" exchange each other's most valued possessions and an oath special to one another.

One day, two girls who formed a contract to become "Pseudo Sisters" committed a double suicide while holding tight the symbols of their oath.

But the teachers returned those symbols to their original owners and treated it as an accidental death.

The two girls, who decided that they would not be torn apart if they died together—and so they did—died and were torn apart. How much regret did they leave behind in this world?

As time passed, the school went under and was closed, but immediately after, one strange complaint after the next followed by the neighborhood.

A beautiful schoolgirl searching for something appears, and a crying voice is heard. A girl's voice, sobbing sadly.

GIVE IT BACK.

■ Keywords

The Old School Building

Kagurahara Girls Academy, where the story is set, has an "Old School Building" that has been closed since the Taisho era. While it is currently off-limits, stories of "ghosts appearing" still continue to be passed down.

Suzu's Dream

On the first day of their voluntary training camp together, Suzu began having dreams of an unknown "sister." Suzu wondered who this "sister" was and if she had any connection to the ghost story she heard from Rui, but her time with that "sister" in the dream was pleasant, so she was not particularly concerned.

However, Yuuka Sumeragi, who transferred to the school during summer vacation, was the spitting image of that "sister."

The Transfer Student

Yuuka is a transfer student who transferred to the school at the start of summer—a strange time to transfer to a new school.

While she said that she would participate in the koto music competition after vacation before she joined the club, she later said she has no intention of practicing with the group, and showed no mind to keep in line with everyone else's pace.

Was she forced to transfer schools against her will? Suzu and the others feared that may be the case, but it was said that Yuuka transferred to Kagurahara Girls Academy and joined the koto music club by her own request.

Koto Music Club

The koto music club at Kagurahara Girls Academy, of which Suzu and others are members, is a club with a long-standing history at the school.

While it was once prosperous enough to have a relationship with Yuuka's household, which is famous in the koto music world, that tradition came to an end after Reiko's mother took over as school president.

Many beginners join the club, and its atmosphere that most values putting on a "fun" performance together most becomes threatened when Yuuka joins.

Suzu's strange dream, and the unexpected transfer student Yuuka. An old ghost story about Kagurahara Girls Academy, and an old school building where ghosts are said to appear. An intertwined fate begins to change the peaceful everyday lives of a group of girls.

Suzu, Maya, Reiko, Rui, and now Yuuka. The relationships and bonds between these girls will gradually grow stronger…
Yoru, Tomosu is due out for PlayStation 4 and Switch on July 30 in Japan. Read more about the game here. Watch the debut trailer here.
View the screenshots at the gallery.