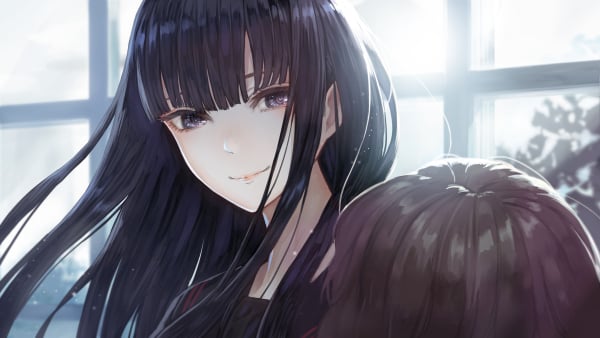 Nippon Ichi Software has released first information and screenshots for Yoru, Tomosu, its newly announced horror visual novel due out for PlayStation 4 and Switch on July 30 in Japan.
Get the details below.
■ Key Visual

■ Summary

Nippon Ichi Software will release Yoru, Tomosu for PlayStation 4 and Switch on July 30, 2020 in Japan.

This title is a text adventure game set in a historic girls' high school that depicts the story of five girls involved in a strange incident.

■ Prologue

Taisho era.

This is the story of a boarding school for young ladies that stands quietly on the outskirts of town. The students there are "caged birds," restricted from leaving the school grounds even on days off.

The girls shared everything, from their loneliness and joy to their teenage melancholy. Eventually they created the "Pseudo Sisters" system—a special relationship in which two girls would exchange each other's most valued possessions and form a sister contract until graduation.

But one day, two girls who formed a contract to become "Pseudo Sisters" committed a double suicide. The two died holding the "valued possessions" said to be a symbol of the bond between them, but the teachers returned those "symbols" to their original owners and treated it as an accidental death.

If we die, we can stay together forever. The wishes of these two girls who committed suicide were trampled so easily.

■ Main Characters

Suzu Izayoi (voiced by Yuki Nagano)

A girl who lost her parents at a young age and is now living with her grandmother. She is the ace of the koto music club at Kagurahara Girls Academy and next in line to be its president. She has a cheerful personality and can get along with anyone. On the first day of summer vacation—the day everyone shared ghost stories—she started having strange dreams of herself and a "sister."

Yuuka Sumeragi (voiced by Mai Mochizuki)

A transfer student who joined the koto music club. Because her home was once a school that boasted the largest number of top disciples in the koto music world, her own skills are second to none. As emotional support, he cherishes a diary about Kagurahara Girls Academy that she found when she was young. She is the spitting image of the "sister" that appears in Suzu's dreams.

Maya Aoyagi (voiced by Hiyori Kono)

Suzu's childhood friend who is usually reliable, but occasionally messes up. She loves Suzu and cherishes her above all else. Not only did she go attend this school because of Suzu, she also started playing koto music because of her. She is good at making sweets, but is also very timid and easily scared.

Rui Maihara (voiced by Chiyo Tomaru)

A cheerful and energetic girl who for better or worse can be quick-tempered. She was once the rising star of the track and field club, but retired after she injured her leg and joined the koto music club. She loves the club president that welcomed her in.

Reiko Takusari (voiced by Yuka Ootsubo)

A girl who does things calmly and at her own pace. Despite that, she is a realiable older sister-type who watches over everyone. Her grandmother is the school president.

■ Other Characters

Tae Kanno (voiced by Rika Kinugawa)

The adviser for the koto music club that oversees the students. Also known as Taechan-sensei.

Marino Takezawa (voiced by Hazuki Senda)

The current president of the koto music club, who runs it under the motto, "Music is to Enjoy." She is a dependable senpai who believes one should enjoy playing music above all, and even taught music novice Rui how to play from scratch.

■ Story

In preparation for the contest to be held after summer vacation, Suzu, Maya, Rui, and Reiko began their summer practice.

Just as summer vacation began, Suzu had a dream in which she saw an unknown "sister." While she did not pay much mind to it, one day a girl named Yuuka Sumeragi—the spitting image of the "sister" in her dream—transfers to her school.

Yuuka cherishes an old notebook—an old diary about the school.

Yuuka is also from a family once famous in the koto music world, and plans to participate herself in the contest to be held after summer vacation. However, Yuuka listens to Suzu and company's performance and calls it "an insult to music," having no intention to slow into step with them.

Suzu puzzled things over with the club president regarding Yuuka, who quickly isolated herself from the club, but at a certain point, she discovered note in her cupboard that read, "I want to talk at the old school building – Sumeragi." Suzu saw off the president, who was excited about her "chance to talk together" with Yuuka, but what would later be discovered is the bloody body of the president who had fallen from the old school building's second floor.

■ Kagurahara Girls Academy

A historic school for young ladies that has been around since the Taisho era. In addition to the new school building where Suzu and company attend class, there is an old school building that is now off-limits, and among the students there are rumors that "the old school building is haunted."
View the screenshots at the gallery.