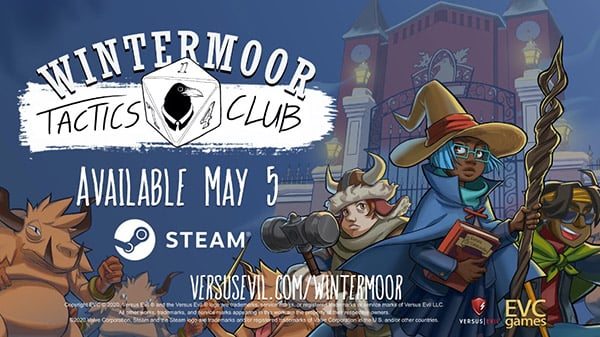 Tactical RPG Wintermoor Tactics Club will launch for PC via Steam on May 5, followed by PlayStation 4, Xbox One, and Switch later in 2020, publisher Versus Evil and developer EVC announced.
Here is an overview of the game, via Versus Evil:
Wintermoor Tactics Club is a tactics RPG with narrative inspired by visual novels, set in high school during the 1980s and combines its contemporary setting with tactical fantasy RPG combat.

Players take on the role of Alicia, one of the members of the Wintermoor Academy Tactics Club, where students play the premier tabletop game of the time, Curses & Catacombs. Obsessed with his search for the "Ultimate Club", Principal Enfield announces a mandatory snowball tournament between the Academy's clubs. Players will need to use their tactical prowess to defeat opposing clubs in RPG battles. The game's visual novel approach to its storytelling helps propel the games underlying narrative and themes about inclusion, and the way we often narrowly define ourselves and others based on the groups we belong to.

In their exploration of Wintermoor Academy, players will write tabletop campaigns to help students overcome their personal problems, and discover their fantasy selves as the club grows, all of which is tempered by a cozy, light hearted approach and earnest sense of humour, a core pillar of the game's tone and presentation.

The story will unravel the sinister truth behind the War of the Clubs as players look to break down the walls of high school cliques, make new friends and unlock their true potential. With dozens of unlockable upgrades and seven playable characters across more than 40 battles, Wintermoor Tactics Club merges a highly visual story with customized tactical combat.
If you missed the announcement trailer, watch it here.