Strikers 1945 coming to PC on April 30; more Psikyo shoot 'em ups to follow
Samurai Aces, Gunbird, Sol Divide, Dragon Blaze, and more also planned.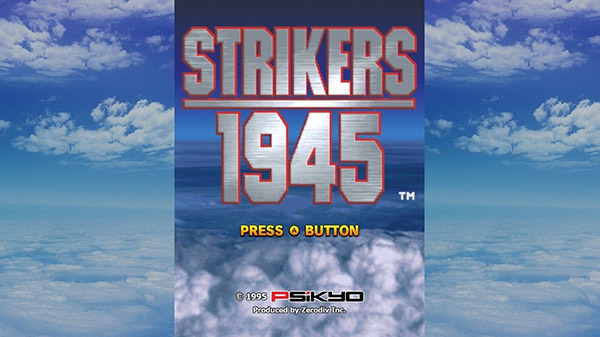 City Connection will release the 1996-released, Psikyo-developed shoot 'em up Strikers 1945 for PC via Steam on April 30 for 990 yen, the company announced. It will support both English and Japanese language options.
Following Strikers 1945, City Connection plans to release the following other Psikyo shoot 'em up titles for PC via Steam:
Samurai Aces
Samurai Aces Episode II: Tengai
Samurai Aces Episode III: Sengoku Cannon
Gunbird
Gunbird 2
Strikers 1945 II
Strikers 1945 III
Sol Divide: Sword of Darkness
Dragon Blaze
And more!
Release dates and release order are still to be determined.
Here is an overview of Strikers 1945, via its Steam page:
About

This is the most popular and famous title from the Psikyo shooter series!

Strikers 1945 is a vertical-scrolling shooter game that first appeared in arcades in 1995.

Watch Battleships and tanks transform into futuristic mechs. The challenging boss battles will surely test out your skills. After you play this game, you'll know why the Psikyo Bullets are legendary.

Let's go, Strikers! Board a fighter plane, fly across the sea, across the sky, and beyond. Stop this secret organization from taking over the world!

You can set the difficulty level, life, number of continues, controls, screen orientation, and more.

In addition, now we have online rankings! Become the worlds to Striker!

Planes

World War II-era fighters are here, and you can fly six different types of planes, each with unique features.
Power up with "P" items, with sub-weapons also added.
Get bombs with the "B" item to wipe out enemy bullets and evade your foes!
Unleash the formation attack to take down your enemies!

Arcade Mode

Seven levels of difficulty can be selected for beginners.
Now players can really test out their skills with a "Hard" and "Very Hard" mode. We're looking for recruits who are up for the test.
Local rankings will support all difficulty levels and your own planes.

Options

The vertical screen mode that allows you to play in arcade style like back in the day.
Select the screen filter from the normal +2 version.
You can set the number of lives from 1 to 9 and the number of continues from 0 to unlimited.
Assign "Shot", "Auto Shot" and "Bomb" in the key configuration.
The vertical screen mode can be operated in the horizontal mode as well! Now enjoy a completely different gameplay.

Score Attack

This is a new feature that has a very severe mode with a fixed difficulty level and number of lives..
Compete in high scores and score attacks against players from all over the world!
Online rankings can be viewed from the options menu.