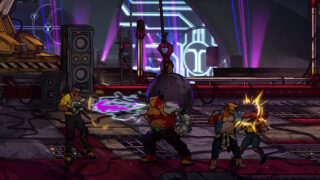 Streets of Rage 4 will launch for PlayStation 4, Xbox One, Switch, and PC via Steam on April 30 for $24.99, developers Dotemu, Lizardcube, and Guard Crush Games announced.
Dotemu also released a new trailer showcasing "Battle Mode," which returns from Streets of Rage 2 and 3. Battle Mode features eight arenas and is playable in versus and team modes.
As previously announced, Limited Run Games will release limited print physical standard and special editions of Streets of Rage 4 for PlayStation 4 and Switch. Pre-orders are available now and will close week after the game's digital release on April 30.
Here is an overview of the game, via Nintendo.co.uk:
About

Amongst the best beat'em up series ever created, jammin' 90s beats and over the top street beating, the iconic series Streets of Rage comes back with a masterful tribute to and revitalization of the classic action fans adore.

The all-time classic Streets of Rage, known as Bare Knuckle in Japan, is a beat 'em up series known for this timeless gameplay and electronic dance influenced music. Streets of Rage 4 builds upon the classic trilogy's gameplay with new mechanics, beautiful hand-drawn visuals and a God tier soundtrack.

Team Up with Iconic and Brand-New Characters

Streets of Rage 4 got its iconic characters back: Axel, Blaze, and Adam teaming up with new brother and sister in arms Flloyd Iraia and Cherry Hunter. With some brand-new moves and kickass tracks to take a listen, our heroes are ready to dish out beatdowns to a fledgling group of ill-advised criminals in full force.

Nostalgia Strikes Again

One of your dreams is coming true. In addition to the five new characters, unlock and play your favorite pixelated characters from the previous Streets of Rage games such as Axel, Blaze, Skate, Max, and many more with their own retro sound effects, in gorgeous HD hand-drawn urban environments. And for the full nostalgic experience, you will also be able to play with the music of previous Streets of Rage games.

Outstanding Hand-Drawn Visuals

Streets of Rage 4 will be the first entry to the core series in 25 years, standing as Axel, Adam, or Blaze's glorious return to serving up side-scrolling beatdowns. With lush hand-drawn animations, new combat abilities, and fresh tracks from an amazing team of composers, Streets of Rage 4 will be a masterful tribute to and revitalization of the classic action fans adore.

Epic Lineup of Legendary Games Composers

The Streets of Rage series is known for its electronic dance influenced music around the world.

Led by Olivier Deriviere, the soundtrack of Streets of Rage 4 will be composed by not only an all-star ensemble of Japanese memorable musical architects in video game history, but also by four western rising stars:

Yuzo Koshiro
Motohiro Kawashima
Yoko Shimomura
Harumi Fujita
Keiji Yamagishi
Scattle
Das Mortal
XL Middleton
Groundislava

Key Features

The comeback of the legendary Streets of Rage series.
Beautiful graphics fully hand-drawn and animated by the studio behind Wonder Boy: The Dragon's Trap.
Clean up Wood Oak City by yourself or with another friend online.
Up to four people can team up offline for the first time and take the city back.
Classic gameplay enhanced with brand-new mechanics.
Soundtrack by a wide all-star lineup of world-class musicians.
Braised chicken everywhere.
A dozen former Streets of Rage characters unlockable and playable in their original pixel versions.
Play with the music of the previous Streets of Rage games.
12 unique stages.
Watch the new trailer below.