Sega Shiro video reveals secret past
New promotional character confirmed to be Segata Sanshiro's son.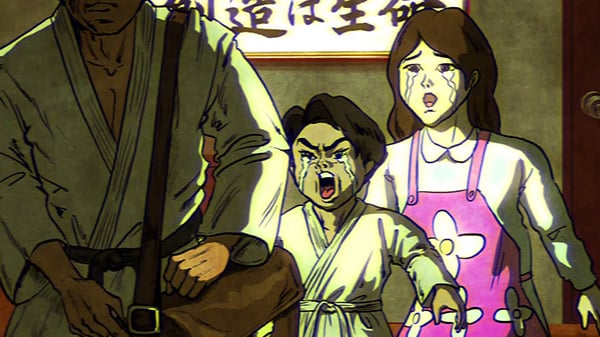 Following the launch of its new promotional character Sega Shiro back in March, Sega has released the second official video featuring the character, this time delving into his secret past and confirming he is the son of Segata Sanshiro, a character created by Sega to advertise Sega Saturn between 1997 and 1998.
The video starts with various schoolgirls asking Sega Shiro about his possessions:
Schoolgirl: "Sega Shiro, is that a Switch?"

Sega Shiro: "It's a Sega!" (Game Gear, released in 1990.)

Schoolgirl: "Sega Shiro, are those sunglasses?"

Sega Shiro: "It's a Sega!" (3D Glasses, released in 1987.)

Schoolgirl: "Is that a backpack?"

Sega Shiro: "It's a Sega!" (Sega Saturn, released in 1994.)
When asked why he is always wearing his judo gi, Sega Shiro quietly says "Father…" and has a flashback of his father Segata Sanshiro training him to master the way of Sega, before setting off and leaving his wife and son behind. A nuclear missile kills him, and his coat falls into Sega Shiro's hands.
After that, a masked man named Sega Hatan Shiro appears, whose name seems to be a play on "Sega Saturn," which is spelled "Sega Sataan" in Japanese. "Hatan" means "bankruptcy." The video ends with Sega Shiro swearing to his father that he will protect Sega.
Watch the video below.
https://www.youtube.com/watch?v=nPVFY0EbRaY