Doraemon Story of Seasons for PS4 coming to Asia with English subtitles on July 30
Due out on July 30 in Japan.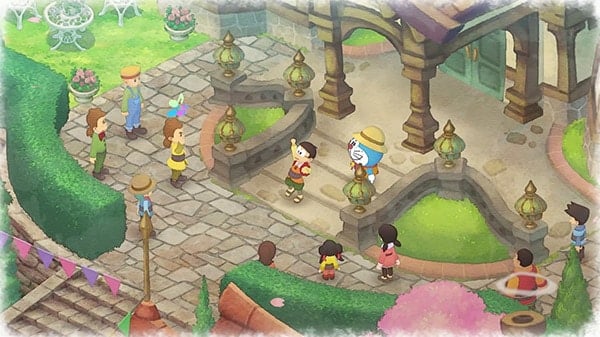 Bandai Namco will release the PlayStation 4 version of Doraemon Story of Seasons in Southeast Asia (Singapore, Malaysia, Thailand, Philippines, and Indonesia) with English subtitles alongside its previously announced Japanese release on April 30, the company announced. It will be available physically and digitally in both regions.
In both Japan and Southeast Asia, first-print copies of hte game will include download codes for the "Noby's Room Set" and "Special Seeds Set" add-ons, which are details below.
Noby's Room Set

Noby's Chair
Noby's Futon
Noby's Desk
Noby's Room Flooring
Noby's Room Wall
Noby's Bookshelf

Special Seeds Set

Strawberry Seeds (x20)
Pea Seeds (x20)
Potato Seeds (x20)
Corn Seeds (x20)
Tomato Seeds (x20)
Eggplant Seeds (x20)
Pepper Seeds (x20)
Cabbage Seeds (x20)
Here is an overview of the game, via Bandai Namco:
Doraemon Story of Seasons will take players on a wonderful journey across the lands of Natura town featuring Noby. Players will meet and cooperate with many familiar faces and enjoy heartwarming interactions through the game's original story; a unique experience for anyone young at heart.

As Noby and Doraemon work the land and develop bonds with neighbors, they gain access to more land and more areas to explore together with friends. Players will be able to customize their farm by growing crops, raising farm animals, building furniture, and more.

In the latest trailer released today, it illustrates the charm of this game that features warm and unique visuals. The game is set in a place call "Natura," a town rich in nature. Noby's rich ranch life begins while searching for the "secret gadgets" that has disappeared for a certain reason. Grow and harvest crops, take care of animals and develop your ranch. If you deepen your relationship with the unique villagers who live in Natura, you may find some of the "secret gadgets."

In addition, you can also fish and catch insects, change the interior of the room, and enjoy a peaceful life. Check out the latest videos on the introduction of the game original story and the game system unique to Story of Seasons.
Doraemon Story of Seasons first launched for Switch in June 2019 in Japan, followed by Switch and PC via Steam worldwide in October 2019.
Watch the debut trailer below. View the first screenshots at the gallery.
English
Japanese
https://www.youtube.com/watch?v=2oYUaYJ6vFE