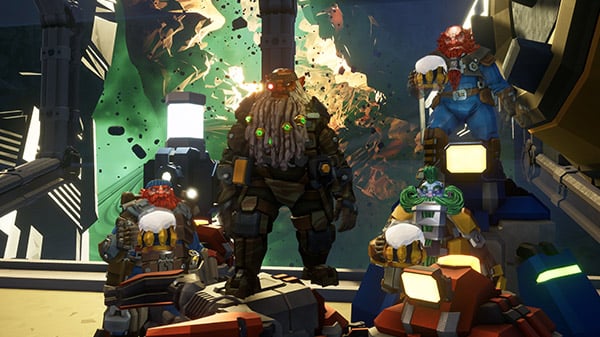 Space mining cooperative first-person shooter Deep Rock Galactic will leave Early Access and launch for Xbox One via the Microsoft Store and PC via Steam and the Microsoft Store on May 13 for $29.99 / €29.99 / £24.99, Coffee Stain Publishing and developer Ghost Ship Games announced.
Deep Rock Galactic will launch alongside two cosmetic downloadable content packs, which include new sets of armor, weapon skins, and the official Deep Rock Galactic soundtrack with 50 minutes of new music.
Ghost Ship Games ran a competition for fans to make their own launch trailers for Deep Rock Galactic. With over 200 entries, the developer has selected the top 40 to compete for the top prizes and will showcase new fan trailers each day on the Deep Rock Galactic social channels, concluding with the winner on May 12.
Deep Rock Galactic first launched in Early Access in February 2018 and has since surpassed one million sales. It has been regularly updated with new features and content, including "enemies, weapons, missions, perks, assignments, deep dives, through to vanity items, beard physics, dwarven shouts, and a multitude of beers in the Abyss Bar."
"When we started developing Deep Rock Galactic four years ago, none of us at Ghost Ship Games had imagined the game as it is today," said Ghost Ship Games CEO Soren Lundgaard in a press release. "While many of the core features have evolved and works as we hoped, there are also entire sections of the game that we didn't dream of, and that is largely due to our community. Our focus has always been co-op first so to create something that truly requires teamwork meant we needed to team up with the community. We want to thank our players for their support and feedback after four years we're incredibly excited to officially launch."
Coffee Stain CEO and co-founder Anton Westbergh added, "Deep Rock Galactic was one of the first games we signed. The journey from the closed alpha through to launch has been incredible and it's been fantastic to see such a passionate community support the game's development. We're thrilled to be the publishing partner for Ghost Ship Games, a studio with a unique focus and strategy for co-op combined with creativity and a real community-first approach."
Here is an overview of the game, via Coffee Stain Publishing:
About

Deep Rock Galactic is a one-to-four player co-op first-person shooter featuring badass space Dwarves, 100 percent destructible environments, procedurally-generated caves, and endless hordes of alien monsters.

Key Features

One-to-Four Player Co-op: Work together as a team to dig, explore, and fight your way through massive cave systems filled with hordes of deadly enemies and valuable resources.
Four Unique Classes: Mow through enemies as the Gunner, scout ahead and light up the caves as the Scout, chew through solid rock as the Driller, or support the team with defensive structures and turrets as the Engineer.
Fully Destructible Environments: Destroy everything around you to reach your goal. There is no set path so you can complete your mission your way. But proceed with caution, you don't want to stumble into an alien swarm unprepared!
Procedurally-Generated Cave Network: Explore a network of procedurally-generated cave systems filled with enemies to fight and riches to collect.
High-Tech Gadgets and Weapons: Clean the caves of Hoxxes IV with the CSPR Flamethrower and the "Lead Storm" Powered Minigun, light the way with flares, tackle tough terrain with the Reinforced Power Drill and reach new heights with the grappling hook.
Watch a new set of trailers below.
Narrated Trailer