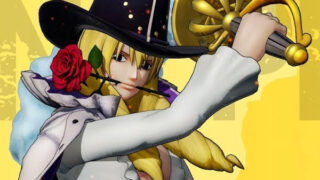 Bandai Namco has released a new character trailer for One Piece: Pirate Warriors 4 featuring Cavendish.
Here is an overview of Cavendish, via the game's official website:
Cavendish

Captain of The Beautiful Pirates. AKA "White Knight Cavendish". Because of his beauty, he has many female fans. He is egocentric and detests the Worst Generation who cost him his popularity. He suffers from bouts of sleepwalking, and in his sleep a vicious alter ego called "Hakuba" comes out. He met Luffy at the Corrida Coliseum tournament, where he hoped to acquire the Flame-Flame Fruit.

Action Type: Speed – Cavendish is a genius swordsman with the face of an angel. Able to fight both on the ground and in the air using his speed and the long reach of his blade. If he transforms into his alter-ego, Hakuba, he can use his superior speed to slash large numbers of enemies at once.
One Piece: Pirate Warriors 4 is due out for PlayStation 4, Xbox One, and Switch on March 26 in Japan, and for PlayStation 4, Xbox One, Switch, and PC on March 27 in the Americas and Europe. Read more about the game here.
Watch the trailer below.