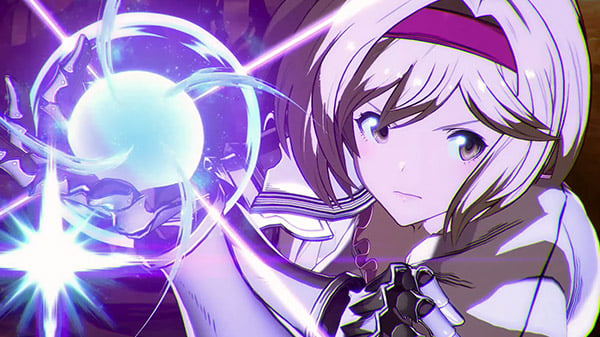 Granblue Fantasy: Versus downloadable content character Djeeta will launch alongside Soriz on April 7, publisher Cygames and developer Arc System Works announced.
Djeeta can be unlocked by purchasing the downloadable content "Additional Character Set: Djeeta" or the "Character Pass Set."
Here is an overview of Djeeta, via the game's official website:
Djeeta (voiced by Hisako Kanemoto)

Djeeta, who is a capable captain in her own right, joins the fight in Granblue Fantasy: Versus! Sharing a similar skill set as Gran, she's a great fighter for anyone!

This hero's adventure began when she received a letter from her father asking her to come to the Island of the Astrals, Estalucia. Now she travels the skies with her flying lizard-like buddy, Vyrn, and the mysterious blue-haired girl who saved her life by linking it with her own, Lyria.

Honest to a fault, she'll come to the aid of anyone who needs his assistance. Although her swordplay is rough and self-taught, she possesses the power to overcome any obstacle—thanks in no small part to Lyria's assistance.

Additional Character Set: Djeeta (800 yen)

Playable character: Djeeta
Lobby avatar (x1)
Support character icon (x1)
Additional quests (x2)
Granblue Fantasy (mobile game) bonus content: "Gran & Djeeta GBVS Ver." Outfits – With these outfits, you can set Gran and Djeeta's skills and animations to match the ones seen in Granblue Fantasy: Versus.
A trailer for downloadable content character Zooey will be released on April 17.
Granblue Fantasy: Versus is available now for PlayStation 4 and PC via Steam worldwide.
Watch a trailer for Djeeta below. View a set of screenshots at the gallery.