Dragon Marked for Death version 3.0.0 update launches April 21, adds playable characters Oracle and Bandit [Update 2]
A look at the new characters in action.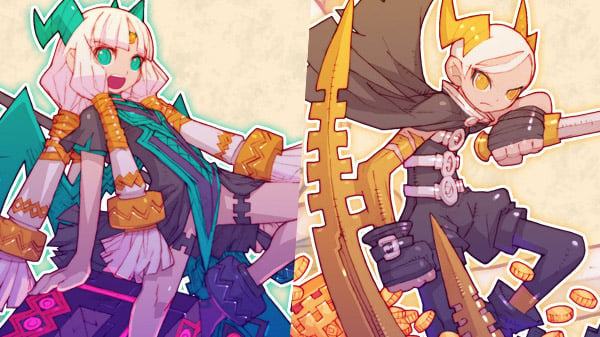 The version 3.0.0 update for Dragon Marked for Death will launch on April 21, developer Inti Creates announced.
Get the details below.
■ Version 3.0.0 Update

In Dragon Marked for Death, you can customize the main color, name, and voice when creating your characters. In the version 3.0.0 update, two more characters are getting added to the game with the release of the Oracle and Bandit!

■ New Characters

Oracle

Voiced by:

Yui Ogura
Miyu Tomita
Saori Hayami
Yui Horie

The Dragonblood Oracle, reincarnated once every 100 years. She bears the Dragon Scar on her back. The Oracle is able to communicate with the Astral Dragon Atruum and channel his power through the Dragon Wings that have manifested on her back. Through this, she can reproduce the Astral Dragon's own willpower and magic. She has a strong control over this power, allowing her to manipulate giant weapons through sheer force of will and copy them with magic. She is also capable of using a magic focus to cast beneficial spells on herself and nearby allies, as well as attack spells of an element corresponding to her dragon contract.

Abilities:

Slash Form: The Oracle commands her equipped greatswords to slash at a distance in front of her. Its attack power is high, but leaves her open to attack. She is essentially defenseless until they return.
Quick: This spell increases movement speed temporarily, varying with magic incantations.

Bandit

Voiced by:

Yuki Kaji
Daisuke Kishio
Kenta Tanaka
Daiki Yamashita

A young man of the Dragonblood Clan. He bears the Dragon Scar on his hand. His fist contains the power of the Astral Dragon Atruum that varies with his dragon contract. It is capable of stealing the lifeforce of any living thing. The Dragon Fist can steal this energy and crystalize it, forming magic items known as relics. These relics are capable of manifesting various phenomena. He specializes in luck and earns the favor of his comrades by working as a Treasure Hunter.

Abilities:

Dragon Claw: His arm swells and thrusts forward, grabbing an enemy to extract relics.
Thunder Relic: The Bandit uses the power of a thunder relic, attacking with a quick dash forward. He is invincible while dashing, so he can use this to attack as well as avoid damage.

*The Oracle and Bandit will be added to the game via the Ver. 3.0.0 update and will unlock as playable character once certain in-game conditions are met.
Dragon Marked for Death is available now for Switch.
Watch the version 3.0.0 update trailer below.
Update 04/19/20 at 11:20 p.m.: Due to effects related to the ongoing COVID-19 pandemic (such as the switch to teleworking), the version 3.0.0 update for Dragon Marked for Death will no longer be available on April 21, Inti Creates announced. A new release date will be announced in the future.
Update 04/23/20 at 1:05 a.m.: The version 3.0.0. update will now launch on April 23 at 8:00 a.m. PT / 11:00 a.m. ET, Inti Creates announced.