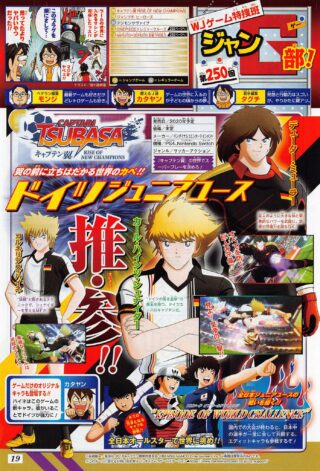 The latest issue of Weekly Jump introduces the German Junior Youth characters set to appear in Captain Tsubasa: Rise of New Champions, including a game-original character.
The characters introduced are as follows:
Karl Heinz Schneider (middle) is the captain of the German Youth, who holds the title of "Germany's Young Emperor."
Cornelius Heine (left, game-original) is a midfielder who supports Schneider with a technique called "Youkai."
Deuter Muller (right) is a goalkeeper with iron wall defense, who uses his large body and tremendous power as his weapon.
Captain Tsubasa: Rise of New Champions is due out worldwide for PlayStation 4, Switch, and PC via Steam in 2020. Read more about the game here, here, and here.
Thanks, @ShonenGameZ.