Azure Striker Gunvolt: Striker Pack for PS4 physical edition announced for the west
Nighthawk Interactive to publish.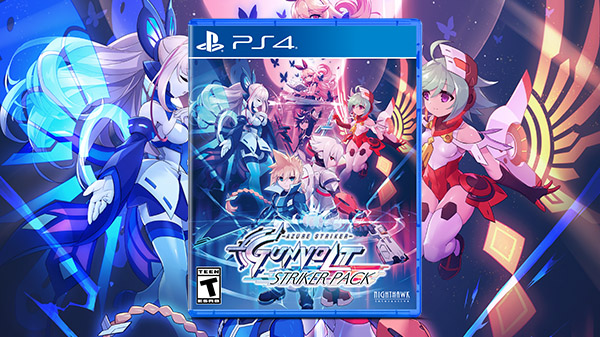 Nighthawk Interactive will publish a physical retail edition of Inti Creates' Azure Striker Gunvolt: Striker Pack for PlayStation 4 on April 28 in North America and Europe, the company announced. It will cost $39.99, with equivalent pricing in Europe. Pre-orders are available now at GameStop.
As previously announced, the digital edition of Azure Striker Gunvolt: Striker Pack for PlayStation 4 will launch a few days earlier on April 23 worldwide. A physical edition is due out in Japan on the same day.
Here is an overview of the game, via Nighthawk Interactive:
Previously only available on Nintendo platforms, the two-in-one package features popular classics Azure Striker Gunvolt and Azure Striker Gunvolt 2, now with faster frame rates and a new vocal track created specifically for the PlayStation 4 release. Fans can also explore the entire catalog of downloadable content, which comes pre-loaded in the pack and introduces extra stages, bosses, bonus modes, and songs.

From developer Inti Creates and publisher Nighthawk Interactive, the Azure Striker Gunvolt: Striker Pack offers lots of new features, including an exhilarating 60 frames per second upgrade, striking high-resolution event graphics, and an exclusive new vocal track, injecting these supercharged side-scrollers with a renewed vitality.

This critically acclaimed series has intuitive controls, memorable characters, and shockingly epic boss battles. Play as Gunvolt, zipping and zapping your way through levels and skill trials by tagging enemies with your weapon, then shocking them into oblivion. In Azure Striker Gunvolt 2, enjoy the game in an entirely new way with the addition of Gunvolt's rival Copen as a playable character. Playing as Copen, you can dash through the air, slam into enemies, and unleash devastating homing shots to make short work of your foes.

In the Azure Striker Gunvolt: Striker Pack, players will:

Experience the fast-paced gameplay in seamless 60 frames per second.
Enjoy all the downloadable content from the original versions, fighting through extra stages, bosses, and bonus modes, all while rocking out to new songs.
Jam along to over 20 pop vocal tracks, including a new track made exclusively for the PlayStation 4 release.
Get lost in the story with high resolution event graphics and in-game text, so the characters look better than ever.
Journey through the levels and peruse menus on the new, intuitive screen layout.
Watch a trailer below. View a set of screenshots and box art at the gallery.