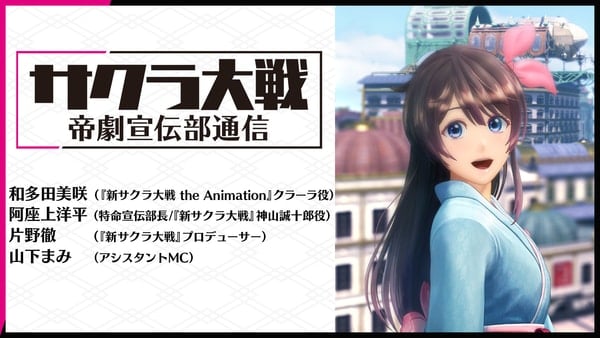 Sega will host the 12th "Sakura Wars Imperial Theater Propaganda Department Report" official broadcast on February 26 from 20:00 JST to 21:30 JST, the company announced. It will be live streamed on YouTube and Periscope.
The broadcast will feature Misaki Watada, who voices new character Clara in Shin Sakura Wars the Animation, and provide a "full introduction" of the anime set to premiere in April. It will also feature the latest information on the Sakura Wars stage play, music, goods, and more.
The live stream will feature the following presenters:
Misaki Watada (Clara voice actor in Shin Sakura Wars the Animation)
Yohei Azakami (Mission Propaganda Department leader / Seijuurou Kamiyama voice actor)
Tetsu Katano (Sakura Wars producer)
Mami Yamashita (assistant MC)
Sakura Wars launched for PlayStation 4 on December 12, 2019 in Japan, and is due out on April 28 in North America and Europe. A demo is available now in Japan. Read more about the game here, here, here, here, here, here, here, here, and here.