Genshin Impact details Xiao
One of the "Mighty and Illuminated Adepti" guarding Liyue.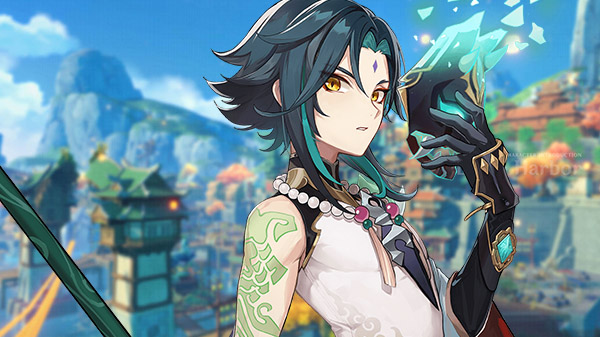 miHoYo has updated the official website for Genshin Impact with the description for Liyue Harbor character Xiao.
Previous updates detailed Mondstadt characters Klee, Venti, Razor, Barbara, Diluc, Jean, Amber, Lisa, and Kaeya.
Get the details below.
■ Liyue Harbor Characters

Xiao (voiced by Matsuoka Yoshitsugu)

"I'm willing to protect you. But don't think about getting close, and stay out of my way, or all that awaits you is regret."

One of the "Mighty and Illuminated Adepti" guarding Liyue, also heralded as the "Guardian Yaksha."

Despite his appearance as a young man, occasional legends about him have been documented in ancient books for thousands of years.

He is especially fond of Wangshu Inn's Almond Tofu.

The reason is that the dish tastes just like the "dreams" he used to devour.
The miHoYo forums offer an alternate version of the character profile:
Xiao (voiced by Matsuoka Yoshitsugu)

"The taste of Almond Tofu feels like a fond dream…" – Xiao's comment towards Wangshu Inn's Almond Tofu

Guardian Yaksha
Vision: Anemo
Constellation: Alatus Nemeseos

For the people of Liyue Harbor, when it comes to the enlightened Adepti living in Jueyunjian, one name stands out above the rest.

When the festivals arrive, the people light incense and pray, asking for the protection of the Adepti.

But they don't pray to Xiao.

For Xiao does not bring good omens nor lucky stars—for he is a demon-hunting Yaksha.

After the lantern lights of Liyue have faded, the thankless battle to protect the city goes on unseen. It knows no winner, nor an end.

Though none of this phases Xiao as the Guardian Yaksha of Liyue. To do so is a contract he must fulfill.

That is simply how it must be.
Genshin Impact is due out worldwide for PlayStation 4, Switch, PC, iOS, and Android in 2020. It will be playable on PlayStation 4, PC, and iOS at PAX East 2020, which runs from February 27 to March 1 at the Boston Convention Center.