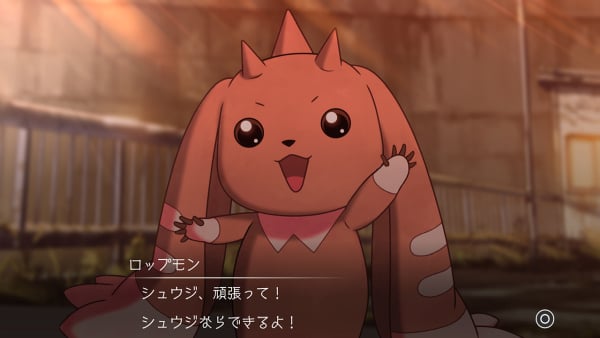 Bandai Namco has released new information and screenshots of Digimon Survive introducing new characters Shuuji Kayama and Lopmon, as well as the camera system.
Get the details below.
■ A Trial that Falls Upon a Bright Young Man Who Struggles with the Gap Between the Real and Other Worlds

Shuuji is a good-natured person who is kind, gentle, relied upon by the adults, and often takes on the role of leader in a group, but this is a result born from the belief that he "must surpass everyone else" due to the pressure of his strict father's educational policy and brilliant older brother.

Shuuji joined the camp as an assistant as a means to temporarily release that pressure. However, when he wounds up lost in another world, where his general knowledge cannot be applied, he tries his best to take leadership but…

In a dangerous world, Shuuji will face off against his own weakness…

■ Shuuji Kayama and Lopmon

Shuuji Kayama (voiced by Yuuya Hirose)

A first-year high school student who joins the camp as an assistant. He us a good-natured person who is kind, gentle, and heavily relied upon by others. Even Takuma and company were given the impression that he was a leader they can rely on, but after getting lost in another world where his general knowledge no longer applies, enthusiasm alone precedes his ability to take action, revealing a weak side in which he places the blame on others and his surroundings.

Lopmon (voiced by Naomi Oozora)

A Beast-type monster with three horns on its head, whose biology is shrouded in mystery. Since it has an innocent and youthful personality, Shuuji sees it as lazy and neglects it, making it feel lonely.

■ Photograph the Other World with the Smartphone (Digital Device) Camera

The children lost in another world are still unaware of how dangerous a place it is, and will photograph and record its wondrous scenery with the camera on their smartphones (digital devices). While shocked by his lack of tension, Takuma holds up his camera, but notices noise run along the screen.

There are things in this world that cannot be seen by the human. Things that, even if they exist, cannot be perceived by the human eye, but can be perceived through an electronic device.

By photographing suspicious areas with your smartphone while exploring, you may be able to discover something new. There are all sorts of things to discover, from the key to clearing an investigation, to hidden monsters or items that strengthen your monsters. Perceive the other world through your digital device.
Digimon Survive is due out for PlayStation 4, Xbox One, Switch, and PC worldwide in 2020. In Japan, it will only be released for PlayStation 4 and Switch.
View the screenshots at the gallery.