Kowloon Youma Gakuen Ki: Origin of Adventure first details, screenshots
Due out this spring in Japan.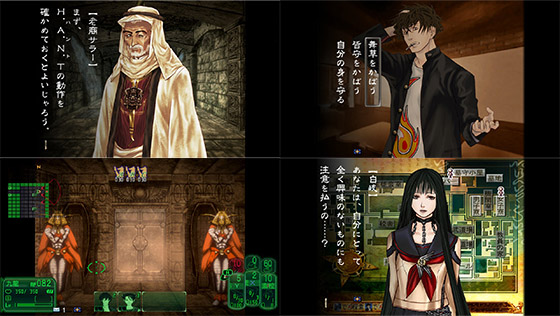 Arc System Works has updated the official website for Kowloon Youma Gakuen Ki: Origin of Adventure, a remaster of the 2004-released school romance juvenile adventure RPG due out for Switch this spring in Japan, with first official information and screenshots.
Get the details below.
■ About

The school juvenile romance masterpiece Kowloon Youma Gakuen Ki returns on Switch will full voice-overs!

Kowloon Youma Gakuen Ki is an adventure RPG released in 2014 that has captured the hearts of many, regardless of age or gender, and even now continues to gain fans.

Kowloon Youma Gakuen Ki: Origin of Adventure is a high-definition remaster of the PlayStation 2 masterpiece Kowloon Youma Gakuen Ki (Mujirushi), which was created by Shuuhou Imai, the father of the juvenile romance genre that continues to this day.

The game features newly recorded voice-overs, including a fully-voiced main scenario. Famous scenes such as the characters' Christmas confession scene praised by fans are now fully-voiced. Most of the voice cast from the original game has returned, although there have been some changes. Voices can be freely switched between partly-voiced and fully-voiced via the options.

While maintaining defining systems such as the "emotion input system" and "AP turn-based battles," enjoy a school juvenile romance adventure that closes in on school drama and ancient mysteries.

■ Story

Objects that transcend human knowledge, sent by a very ancient civilization… They are called "treasures." Throughout the world's countries were many known as "treasure hunters," those that seek out those treasures said to cause miracles.

Protagonist Kurou Habaki (name changeable) is a young hunter who has just joined "Rosetta Society," a hunter guild for up-and-coming treasure hunters. As his first job, he challenges the "Temple of Heracleion," which is buried beneath the city of Cairo in the Arab Republic of Egypt.

After repelling the obstruction of a secret society called "Relic Dawn," which intends to monopolize the treasures, he brings back one of the treasures and receives a new mission.

"Enroll into Kamiyoshi Gakuen private school in Tokyo, Japan, and explore the ruins discovered beneath the school." Kurou successfully infiltrates the school as a transfer student and discovers the entrance to the underground ruins.

Bonding with friends, battling the "student council" that protects the ruins, and a secret society that lurks in the shadows. Inside a turmoil of secrets and intent, an adventure of a young treasure hunter begins.

■ Systems

Adventure Parts

School parts with unique characters. Enjoy fully-voiced scenes popular among fans such as the characters' Christmas confession scene.

Emotion Input System

Respond in conversations by choosing from nine emotions (love, joy, passion, friendliness, sadness, grief, coldness, anger, and ignore), and in addition to affecting various parameters such as the other person's reaction, favorability, and conditions for events to occur, different conversations will develop for each playthrough.

■ Characters

Koutarou Minamori (voiced by Kenji Hamada)

The protagonist's classmate who always has an aroma pipe in his mouth. While he has excellent reflexes, he is not a member of the club and and prefer to be on his own. He is always either on the rooftop or at the nurse's office, and tends to skip out on classwork. His favorite food is curry.

Asuka Yachiho (voiced by Ayano Imaizumi)

A girl in the same class 3-C as the protagonist. She is the ace of the tennis club. She is curious and cares about others, as well as cheer them up. She has a friendly relationship with the transfer student protagonist.

Kasuka Shiraki (voiced by Mai Nagasako)

A mysterious girl who wears chains beneath her uniform. She has a mystical atmosphere that keeps people at a distance, and her background is hidden in a veil of mystery. She throws puzzling words at the protagonist.

Tsukumi Nanase (voiced by Yuki Masuda)

A girl in class 3-A, as well as a student librarian. She manages the school's books and has a habit of quoting old sayings. While she is serious and quiet, she gets excited when it comes to topics of super ancient civilizations and the occult.

Ayuko Hinakawa (voiced by Yui Horie)

The Japanese language teacher and homeroom teacher for the protagonist's class, 3-C. Her beauty has made her very popular with students. While she is kind and gentle, she has doubts about the main leadership of the student council.

■ Restored Treasure Edition

The "Restored Treasure Edition" includes a copy of the game, a smartphone stand figure of Koutarou Minamori, a new drama CD, and an art book.