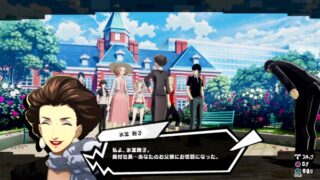 Atlus has released the third "Morgana's Travel Report" for Persona 5 Scramble: The Phantom Strikers, which introduces the city of Sapporo and Persona growth.
Get the details below.
Introducing Sapporo, the Romantic City Where You Can Feel the History

Sapporo is a romantic city where you can enjoy various historic and beautiful buildings, as well as hot springs.

In Chuo, Sapporo is a skilled politician named Mariko Hyoudou (voiced by Kyoko Terase) who is gathering support from the people. She has an enthusiastic attitude for tackling work and her reputation is through the roof, but there is an unusual atmosphere about that popularity…

The Sapporo Jail awaits the Phantom Thieves. It is a beautiful, but somewhat sad world where ice has frozen over the surface.

In the dungeon of this difficult Jail, familiar Personas appear and various stage mechanics such as walls of ice and snowboarding await the player.

Train and Strengthen Your Personas

Personas can be strengthened through battles and in the Velvet Room. Train your Personas and face off against tough enemies!

Joker, who possesses the "Wild" quality, can switch between several Personas in battle. Utilize this Persona Change ability to battle enemies at an advantage.

Personas can be obtained by picking up "masks" dropped by enemy shadows. These will become Joker's new Personas, so be sure to actively take down new enemies.

The "Velvet Room" is a special room located between the consciousness and subconsciousness that only the protagonist Joker can visit. Here, you can fuse and strengthen Personas.

Through "Persona Execution," you can combine multiple Personas to create a new Personas. There is normal fusion with two Personas, as well as advanced fusion with three Personas. By fusing several times over, bonus values can be added to the abilities of the newly-born Persona.

Additionally, by spending the "Persona Points" obtained in battle and through fusion, you can level up your Personas, as well as strengthen parameters such as strength and magic. Strengthen your favorite Personas and put them to use in battle.

"Skill Cards" are items that allow a Persona to learn a specific skill. Strengthen your offense with an attack skill, or learn a recovery skill to bring up a strongest Persona all your own!
Persona 5 Scramble: The Phantom Strikers is due out for PlayStation 4 and Switch on February 20, 2020 in Japan. Read more about the game here, here, here, here, and here.
Watch the full report below. View a new set of screenshots at the gallery.
Morgana's Travel Report #3
Full
Sapporo Part
Velvet Room and Skill Cards Part